VII. international poetry contest "mili dueli 2019" (ENGLISH: SWEET DUELS 2019)
Contact e-mail: mili.dueli@hotmail.com
Jajce, Bosnia and Herzegovina, Europe
Date: February 20, 2019
PUBLIC CALL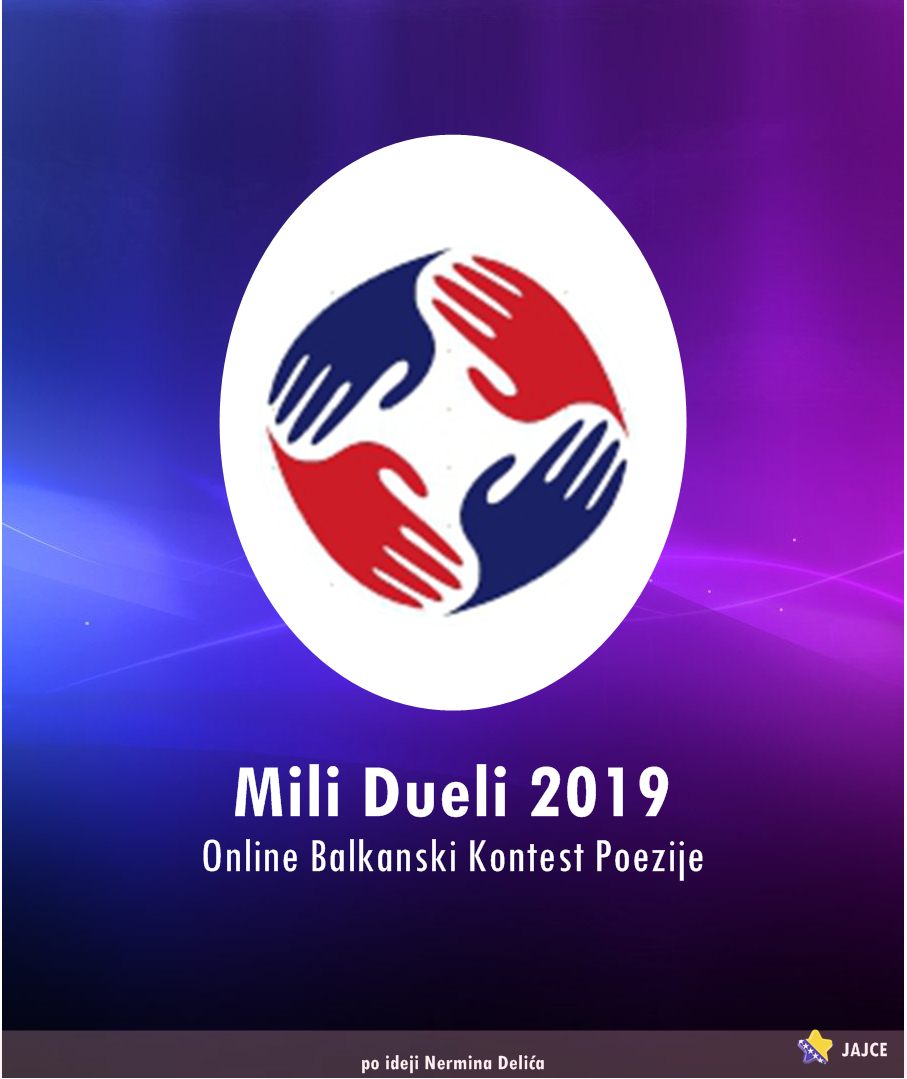 We are inviting all affirmed and non-affirmed poets from whole the world to participate in the most popular online poetry contest in this part of Europe – called Mili Dueli (Sweet Duels). Participation is related with promoting poetry and multicultural dialogue between artists all across the planet, especially between Balkans nations. Authors are presented on official Facebook profile of Mili Dueli and there, they have opportunity to meet each other, exchange their knowledge and get prizes. During six seasons we presented more than 1 000 authors from more than 40 countries across the world. If you are so far from Bosnia and Herzegovina, do not worry! We are very welcome to host you as an author and your country and meet your culture. Our jury is international and we are promoting diversity.
How to apply?
Mili Dueli (Sweet Duels) are international character competition and authors from whole the world are welcome to apply. There is no any restriction except that poems you are sending to us are your own work. Only winners from our six seasons cannot participate again. 
You can apply HERE .

THERE IS NO PARTICIPATION FEE! 
THE PRIZE
The main prize:
1st place: Plaque + Laureate "Mili Dueli"   
Other prizes:
Plaques for 2nd and 3rd place.
Plaques for the best placed author from every Balkan country.
Plaques for the best author from non-Balkans country (well known as a Balich Prize)
Special prize: 
Al Buqain Award (plaque + medal) –  for author who was the best promoter of multicultural dialogue through his poetry and work during a season.
After we finished our season (on September 2019) every author will get a Thanksgiving for collaboration on this project which include promoting poetry, promoting multicultural dialogue and promoting literary criticism in 2019.
Remark: This season, we will published e-book (collection of poems and literary critics of our jury). Details about our printed book will be announced afterwards.
Deadline:
May 31, 2019
After that, organizer will check all applications and choose the best ones for Sweet Duels 2019. Those which he chose will be presented to our international jury and poems will be valued by them and our readers. Contest has five elimination rounds.  In The Final, renowned Balkan artists vote in Eurovision Song Contest – like system.
To be involved in every information about this contest, follow us  HERE. 
More about contest you can find in the most popular business portal on the world – Forbes, in THIS ARTICLE.
---
Contact us:
mili.dueli@hotmail.com
Official Facebook account