SEPTEMBAR, 2020.
U srijedu, 9.9.2020. godine je održan sastanak organizatora Mili Dueli, Nermina Delića i švedske ambasadorice u Bosni i Hercegovini, Johanne Stromquist i Annelie Stiglung, prvog sekretara švedske ambasade. Sastanak je održan u Sarajevu, u dvorištu švedske ambasade uz poštivanje svih epidemioloških propisa određenih za taj datum.
Na sastanku je švedska ambasadorica iskazala oduševljenost projektom Mili Dueli i idejama organizatora, te su napravljeni prvi koraci ka saradnji u budućnosti.
(Mili Dueli)
---
MILI DUELI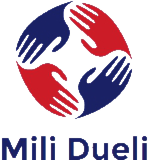 Made in Bosnia and Herzegovina
by Nermin Delić
Europe / Balkan Peninsula
Bosnia and Herzegovina
Federation of Bosnia and Herzegovina
Central Bosnia Canton
Jajce Town 70202
Sva prava zadržana. // All rights reserved.