Mili Duels 2020 (8th season) had 739 entries from 52 countries. It is the largest and most popular online poetry contest in this area, which for the 8th year in a row brings together poets from the region, and lately from around the world. Mili Dueli is headquartered in Jajce, Bosnia and Herzegovina. The purpose of the contest is to encourage intercultural dialogue among artists from the Balkans and the world. Being one of the most sensitive regions in the world with a turbulent past, the aim of the contest is to build bridges of culture and mutual respect between the once war-torn areas.
The contest is traditionally composed of 5 elimination rounds. In each round, the number of authors decreases, and in the last, Fifth round, the winner is decided by a voting system based on the Eurovision Song Contest scoring system. The main responsible person of the contest is Nermin Delić, the idea creator and organizer of the contest. For 8 years in a row, Mili Dueli have been gathering authors and spreading the influence of poetry in everyday life.
Briefly about the First Round: The selection of all received applications (739) was performed by Nermin Delić. The organizer selected 476 authors for presentation in the Second Round.
Briefly about the Second Round: After the selection in the First Round by the organizer of the contest, Nermin Delić, 476 authors were selected and presented in the Second Round. In the Second Round, the authors are classified in 12 duels, according to the countries they come from. Due to the number of participants, Bosnia and Herzegovina had 2 duels (DUEL 1, DUEL 2), and Serbia 3 (DUEL 3, DUEL 4, DUEL 5). Croatia, Montenegro, North Macedonia and Bulgaria had one duel each (DUEL 6, DUEL 7, DUEL 8, DUEL 9). Due to the small number of participants, authors from Albania, Greece, Kosovo, Romania and Slovenia were presented in one duel (DUEL 10). Poets with Balkan roots, but with current residence outside the Balkans, are grouped together in one duel (DUEL 11). In the end, all authors coming from non-Balkan countries are grouped into one duel (DUEL 12).
The beginning of the presentation of the duel on the official Facebook profile of Mili Dueli was on July 12, 2020. Duels are presented in order, every 2-3 or 4 days according to the scope of the duel. For the first 15 days from the presentation of the duel, the followers of Mili Dueli were able to vote in the comments by entering the author's number below the picture where her/his poem is presented. In addition to the readers, the members of the jury, composed of 12 renowned and important for Mili Duel artists from the Balkans, also voted. They selected 90% of the authors to pass to the Third Round. The other 10% is intended for the votes of the readers, for those who were not selected by the jury, and who have the great support of their friends and companions Mili Dueli.
THIRD ROUND
RESULTS
DUEL 9 – NON-BALKAN COUNTRIES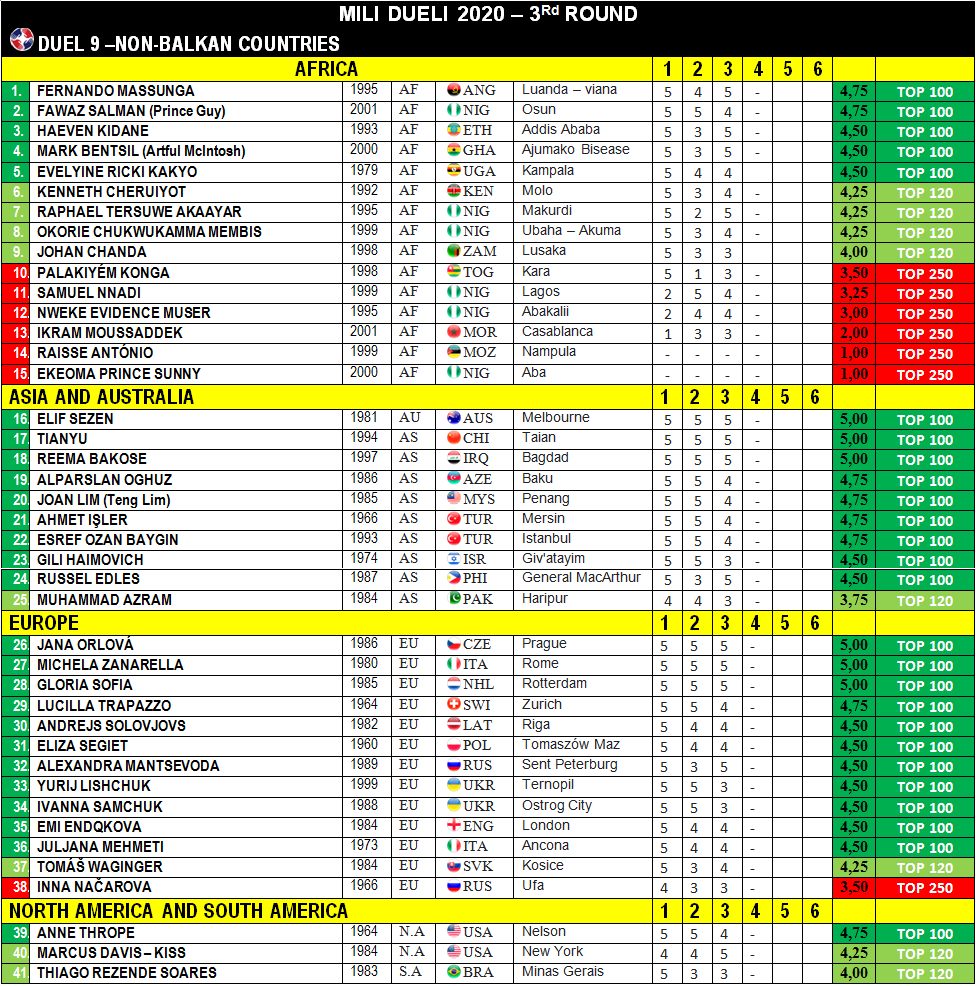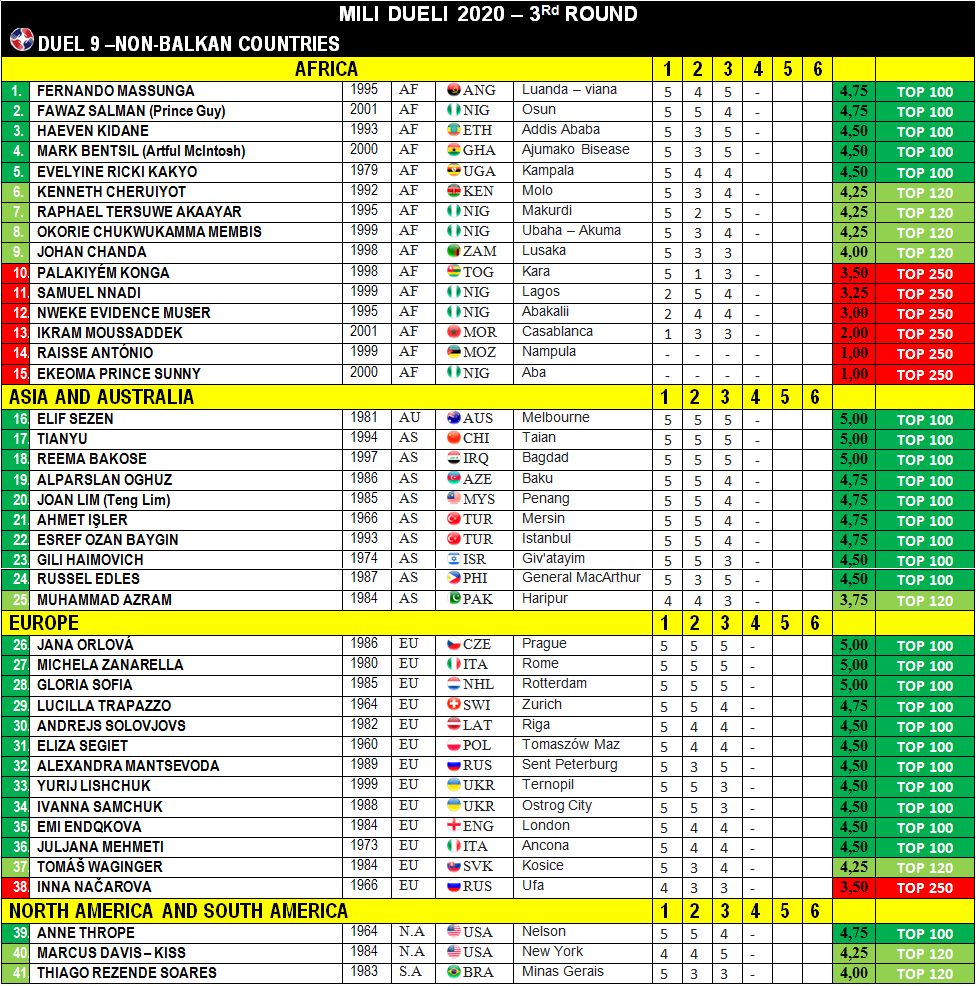 How was the vote?
(1) Organizer: Nermin Delic
(2) President of the jury: Anđela Turukalo
(3) Additional member of the jury I: Simo Golubović
(4) Additional member of the jury II: Nikola Ismail
(5) Readers (number of votes received): 494
(6) Common picture * (* The authors could achieve an additional grade of 5, if they send their picture with one of the participants of the 3rd round.)
VOTING RULES:
In Duel 6, all authors from Bulgaria who passed the previous selection are presented. The number of participants in Duel 6 is 20.
How the votes were counted: The ratings of the additional members of the jury were added up to the average grade, and that with the grades of the President of the jury, and with the grades of the Readers and the grade of the Common Picture. The drawn average grade is summed with the grade of the Organizer and thus the final average grade is obtained on the basis of which the authors are ranked.
The President of the jury had the right to send one author directly to the Semifinals. The President of the jury in this duel did not used that option.
In this duel, no author passed directly based on the votes of the readers. Only one Bulgarian author with a large number of readers' votes was awarded a grade of 5. By the way, according to the rules of the 3rd round, Readers awarded the 3 authors with the highest number of votes in the Third Round – direct passage to the Semifinals, and another 22 authors received a grade of 5. 5 authors stood out significantly in terms of the number of readers' votes in the Third Round, the organizer decided to release all five directly into the next round.

Mili Dueli 2020 – Treći krug – Duel 1 – Total – Reach

Common picture. The authors were entitled to an additional grade (5) if they sent a picture with some of the participants of the 3rd round of the Due Duels 2020. The goal of the pictures was to encourage social relations outside of online activities and socializing. 🙂
SO, WHAT 'S THE NEXT?
TOP 100 – Authors who entered the TOP 100 went directly to the Semifinals Mili Dueli 2020. Each of them will be assigned a mentor at the discretion of the Organizer, and the names of their mentors will be announced later. The mentor can only be one of the members of the Mili DuelI 2020 jury. All the details related to the preparation and sending Semifinals poems (ROUND 4) will be received in a private message in the inbox. Please be patient!
TOP 120 – Authors who entered the TOP 120 did not go directly to the Semifinals of the Mili Dueli 2020. They will, after the announcement of the all results, be offered to the members of the jury to choose them to be their mentors. If none of the members of the jury expresses their will to be their mentor, the authors will not make it to the Semifinals. If one member of the jury responds, that member of the jury will automatically become a mentor. If more than 2 members of the jury apply, the Organizer will, in cooperation with the authors, select one of the offered members of the jury as a mentor to the author.
TOP 250 – Authors who remained in the TOP 250 did not make it to the Mili Dueli 2020 Semifinals. Their contribution to the spread of the project and poetry will be rewarded by receiving electronic recognition for their participation as they represented their countries in a bright light (TOP 250 from 739 registered !!!), and will accordingly receive recognition for the intercultural dialogue of the Balkan countries and the countries of the world in which they participated.
All the presented poems will be represented in a electronic collection which, apparently, will have its own printed edition (summer, 2021), when MILI DUELI BALKAN TOUR awaits us. More on that soon!
Also, all authors who are 2000 or younger will be presented at the MILI DUEL JUNIOR ONLINE POETRY CONTEST which will start a few days after the end of the eighth season of Mili Duels 2020 – Online Balkan Poetry Contest!
KOMENTARI ŽIRIJA
Organizer: NERMIN DELIĆ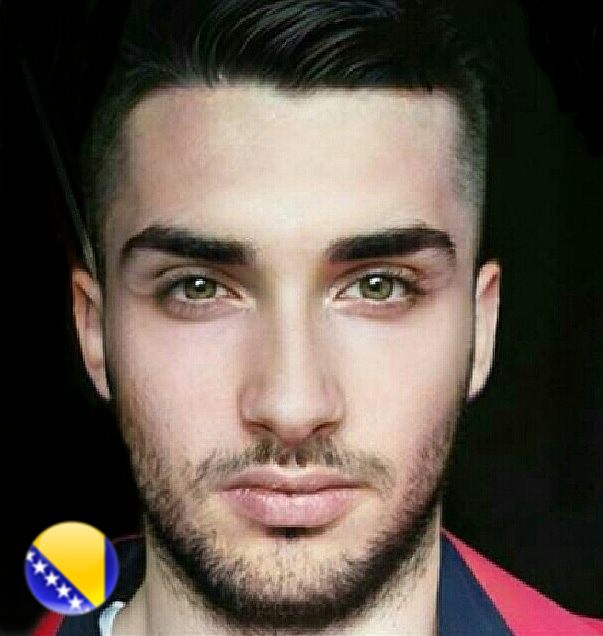 Dear friends,
In anticipation of the announcement of the list of semi-finalists Mili Duels 2020, we will make a recapitulation of everything published so far – in the eighth season. This year we had 739 authors from 52 countries around the world. This is not only a record number of participants in this contest since its founding, but generally a record number of authors participating in an online poetry event in the region – the Balkans, and definitely in Europe where the Balkan countries geographically belong. In addition to the Balkan countries, almost all European countries took participation, as well as some countries of North and South America, Africa, Asia, and Australia did that too.
Experience has taught me that a lot of participation is incidental – while competing, they hang out until then, and later disappear. But year after year has shown that in each there are those who stay and sign eternity with us. Mili Duel as a way of thinking. Mili Dueli as a school of writing. Mili Dueli as psychotherapy. Mili Dueli as a generation of people in an insanely difficult history with which we are both gifted and crippled. Mili Dueli as a revision of the past. Mili Dueli as the Rise of the Present. Mili Dueli as the birth of the future. There is something, people … And that something was built by you who stay with me every year, with us – this bulwark of love for man and his ability to write. Mili Dueli is the only project in the Balkans that gave the poems, not the authors, a chance to succeed. That is why we have encountered a number of condemnations that "anonymous people without a published book" win, and decorated "diplomats with Indian and Bhutanese electronic achievements from Paint", "gods", "champions" of poetry, no. A porter and a tinsmith can really write better poetry than two professors of literature whose title only indicates that they are lovers of poetry, not necessarily excellent writers.
Mili Dueli as a lifestyle. Indeed, they have changed the lives of many. Some have the wind in their backs, some miss the reason why they walled up their windows. The jury of Mili Dueli from year to year votes transparently, completely objectively, each for himself and from their homes in Serbia, Bosnia and Herzegovina, Montenegro, Croatia, North Macedonia, Germany, Greece and Albania. What people really appreciate is that we are not like the majority that just declares a winner, without any explanation. People need explanations. And life needs them. And conscience needs them the most. In our country, everything has always been "black and white". So many comments have changed the ways of thinking and writing to many authors. We educated writers and opened the door to thoughts we would never knock on. We have helped many to write solidly, which is why they are now far more respected in society. Indeed, a large percentage of books are published after participation, precisely because Mili Dueli showed the authors how important what they write is.
A diploma is not everything in life, I tell you, who has more significant diplomas than those from Bangladesh, Bhutan, India, etc … Those diplomas they get did not receive, only who did not ask. My people – I am also a doctor of medicine. But I have a feeling that in Mili Dueli I treat the most – because I have made so many authors, together with my team, happy, completely free of charge. And is there anything more expensive than free stuff ?! With my ideas, I detoxify the poisons we drank every day because we were just thirsty. Only with Mili Dueli can I erase boundaries and live in a world of letters and images – the perfect ones, the ones from the head.
As you know, the Balkans have a desert climate for literature. With minimal exceptions, most of the competition is hilarious – inspired by personal earnings and promotions, a debatable jury and non-innovation. In such an environment, Mili Duelihave sprung up and have been growing for 8 years. Mili Duelli, about which the most famous business magazine in the world, a world media such as Forbes wrote and rated them "the most popular in the former Yugoslavia".
Mili Dueli have given birth to tens of thousands of online contacts, fostered many friendships and international encounters – in short: they have achieved a lot, and those who stay – will see how much is left to happen to us. Because we found the way. A path that does not tread on others, to exist. Let's believe in the future, because this miracle will exist as long as there is one person who wants to become better by helping others to be better.
I appeal to all authors and friends to experience these results of the Third Round in the right way. One song was judged, the one you chose and sent yourself. If the poem is "unimpressive", at the very least, you didn't get any positive comments, not even the best ratings. But that does not mean that you are bad authors and that all your contribution to poetry is valued by that assessment. Write, write and write … because we have so little time.
As you can see, I gained a positive impression for most of the poems, because, among other things, they are about the 20 best authors that Bulgaria has in this competition. However, I made the gradation of the grades based on the comparison of the poems, in order to respect the propositions of the contest.
Greetings from Jajce, Bosnia and Herzegovina for the whole of Bulgaria! 🙂
Nermin Delic, organizer
Jury President: ANĐELA TURUKALO

Fernando Massunga, I like this poem, especially in its original language. It's emotional, it has a lovely melody and I feel it reflecting the energy onto the reader. It lacks a bit of contrasting moments, it does sound a bit flat. But, nevertheless, good job.
Haeven Kidane, I find this poem a bit too simple. It's too mellow and sweet, it lacks more memorable motives. "I chose to be with you" is a fine statement, but there had to be more depth and poetry around that statement. Also, I loved the part
"Cause, babe, you're a mouse in my house that I couldn't find.
You make me scream,
you make me annoyed."
It did change the rhythm and the ambient there, for a tiny moment. So, more of that, and it will be better.
Mark Bentsil, I like the motives here. The ending is quite…charming, I'd say. But, it feels like the author is a slave to the rhyme. Rhyme is not something that should control you, it's supposed to be the other way around. Rhyme should feel natural while reading.
Kenneth Cheruiyot, there's too much to list… That repetitive part "tell me" is quite dull. It lacks originality and drama, it lacks energy, it lacks movement. It's a straight line, the same tone from start till the very end.
Ikram Moussaddek, the problem I see here could be the ending. It feels like it should be more 'alive', somehow stronger, tougher. Something to make the whole poem complete. "Guide me through this" is kind of too soft and simple for a poem like this one. Also, I think this poem should be divided into strophes, it would be way more presentable, more pleasing to the eye. Metaphors aren't getting enough attention this way. The previous poem was better.
Palakiyem Konga- it will be the lowest grade, because there wasn't any translation. I'm not able to understand this- so I'm not able to grade it properly.
Evelyne Ricki Kakyo, I love the energy of this poem… It's sweetness is adorable, really. It's so feminine and magical. But, there is a problem of repeating "petals" four times in four lines. It's too much. It feels like you couldn't find another word to use, like you didn't have anything to say, so you just continued with the petals, petals, petals till the end. I think you should work on that part: be careful with repetitions, you have to create space between them. Everything else is very good.
Johan Chanda, this poem was a bit boring. There were too many questions, guessings- for no actual purpose. The poem, considering its subject, is very long and very flat. You had to put more energy and creativity into this. It does have a couple of interesting moments, but it wasn't enough.
Nweke Evidence Muser, this poem is quite memorable. It leaves a mark on the reader and it definitely is quite picturesque. I loved that part. But, it lacks a bit of clarity in the last part of the poem. That last strophe is a problematic part for me. It feels somehow disconnected and unclear.
Samuel Nnadi, very interesting and quite powerful. The ending was very good. Well done.
Raphael Tersuwe Akaayar, I didn't like it. While reading, it sounded like a weak cry, somehow pale and boring. It lacks metaphors, it lacks something to make it stand out.
Okorie Chukwukamma Membis, this wasn't a bad poem, but it's weak. It does not stand out between this sort of competition, it's too mellow and sweet. It lacks statement, it lacks strength. This author should work more on his expression, to make it more original and livelier.
Fawaz Salman, beautiful work. It's powerful, it has a message, it's fluent and vivid. I love your expression. The ending is perfect. I live the ambiance of this poem, the way that you play with motives. Lovely.
Elif Sezen, it's a nice poem, but it somehow doesn't feel complete. It lacks something. It's not whole. Also, it's all "the same colour, same tone"… This poem needs more of a life.
Alparslan Oghuz, it could be better, definitely. But, the way you express his state of mind is wonderful. I felt his pain while reading this. The last strophe is lovely. The first two- not so much. There's a problem in the originality of expression. It doesn't have to be so simple, so something we got used to reading/hearing. Make it more 'yours'.
Tianyu, not perfect like the last time, but not bad. There's still softness and sweetness, that's amazing. You know how to use it, definitely. But, there are some verses that are cliche. You don't need that, your imagination and expression would be enough on their own to make a great poem.
Reema Bakose, well done. I'd love to see you experimenting with more powerful imagery and less rhyming thing. I think you would fit perfectly into less rules and more imagination.
Gili Haimovich, amazing miniature: sharp, profound, clear, strong and meaningful. Well done.
Joan Lim, it's a purposeful miniature that really caught my attention here. Nice job.
Muhammed Azram, I can see you had a great idea. This wisdom-life-faith moment is very intriguing. Yet, it feels like a poem took over you, instead of your controlling her. This monologue of Life should be a bit more mystified and enriched. It's too simple and too dry…
Russel Edles, rhyme and form are controlling the poem- not the author. It feels artificial and superficial, not very profound. It lacks creativity and personality.
Ahmet Işler, perfect. It's deep and strong, meaningful and lovely. It sounds even better in turkish. Well done.
Esref Ozan Baygın, I'd be happier if you'd use punctuation. Nevertheless, this poem is lovely. Well done.
Jana Orlova, amazing job. There's really nothing to say. Well done.
Andrejs Solovjovs, I see you had a great idea and it was almost perfect. I think that the last verse should be way better: clearer and stronger; to accentuate the poem properly. The rest of it was very good.
Eliza Seiget, interesting approach to the subject. It's very dark and it really transfers the energy to the reader. Good job.
Alexandra Mantsevoda, the trouble here is "the rules". You don't have to create them for yourself. There's a lot of unnecessary words, and I can see that you put them there just to complete the rhythm you wanted and to make it rhyme. Yet, when you put a lot of unnecessary words, you're making the poem weaker. It does not bear the energy like it's supposed to. Every word you use should have a place for a reason- words have to contain purpose. Otherwise, they're weighing the poem down.
Inna Načarova, it's too descriptive, so much that I can't really recognise the point here. It lacks depth and meaning.
Tomas Waginger, it feels like you're talking to someone. It doesn't feel like a poem. Also, it's too naive, too soft, too childlike. It lacks depth and strength. I don't see anything new, anything so creative that it stands out… It needed more effort. Also "I saw paradise, i was in paradise" is too soft of a verse to be a poem-bearer.
Yurij Lishchuk, punctuation would be desirable- it gives the poem a proper rhythm. It really helps. Nevertheless, this poem is great. Well done.
Ivanna Samchuk, punctuation would be desirable. But, the poem is lovely. Great job.
Emi Endqkova, this poem contains some lovely motives. I like the usage of metaphors. I do believe it lacks some energy, some wild moment, something to make an explosion there. But, it's quite good.
Julijana Mehmeti, once again: beautiful motives, it's almost like I'm watching a beautiful painting. But, it lacks one strong moment to make it way brighter. It lacks culmination. I like your writing style.
Michela Zanarella, the very start of the poem did not sound very promising. "Happy rivers of love" is a bit of cliche. But, the rest of the poem was lovely. I thought about giving it a 4, but some verses you wrote really made me close my eyes to that first one.
Gloria Sofia, interesting poem woth very interesting energy. Well done.
Lucilla Trapazzo, this is one of the best poems in this group. Wonderful work. I loved it in italian, loved it in english, loved it in montenegrin… There's no way for this poem to sound bad, or even average. Great job.
Anne Thrope, I'd prefer to see this poem divided into strophes, with proper punctuation. This way it seems chaotic, even though it isn't. I like your expression and, though the previous one was a bit better, I have no further problems to adress here.
Marcus Davis Kiss, interesting poem again. This time, I see it's more of a 'story-telling' than poetry. It certainly is a statement, and a big one. It doesn't lack strength nor energy, but I really think it deserved to be more poetic.
Thiago Rezende Soares, this is a poem filled with advices. There's nothing we never heard before, nothing new, nothing big. It's simple and quite superficial. I think it deserved more of your effort.
Additional Jury Member I: SIMO GOLUBOVIĆ 
Учесници трећег круга такмичења у овом делу, стиче се такав утисак, веома су пажљиво одабрали своје песме. И, чини ми се тако, нема толико велике разлике у квалитету њихових песама и песама аутора са наших простора. Посебних похвала које би могле утицати на коначан исход/резултат, немам. Оценом пет (5) оцењено је доста учесника јер они то заиста заслужују. Нема ни један прилог да није вредан пажње да би добио непролазну оцену Један рад нема превода и одлучио сам да му доделим просечну оцену која може, а не мора бити адекватна.
Вредно је напоменути да су преводи ових песама урађени врло коректно, чак бих рекао да ја наша А. ТУРУКАЛО урадила добре препеве, што се од ње, свакако и очекивало, јер и сама пупише изврсне стихове. Верујем да ће учесници и организатори бити задовољни њеним преводима/препевима.
Већ у овом делу такмичења назире се она права намера организатора да цео поетски свет окупи на једно место и стави под исту поетску круну. Он је ту успео, на чему му честитам,
Желим свима даљи успешан рад и да предстојећа празновања проведу у радости и задовољству.
Additional Jury Member II: NIKOLA ISMAIL
(Did not vote.)
DUEL POEMS
You can watch the entire duel on the social network Facebook, where it is on the official profile Mili DuelI.
AFRICA
1. FERNANDO MASSUNGA 1995 AF ANG Luanda – viana
***I dalje želim život
kao dokaz da i on mene želi
kako zemlja želi kišu,
poput poljupca u usta žene koju najviše želim,
kao kralj koji sjedi u svom zamku.
Šetajući uz more u mračnoj noći, na mjesečini, moje tijelo bez odjeće:
kako sam u suzama došao na svijet, naučen sam da pjevam pesmu života bez prestanka.
Učim letjeti, da bih dodirnuo more- bez davljenja.
Ljubim zemlju bez prljanja,
uzimam ruže ne povređujući ih, vidim dno mora gledajući zvijezde.
Želim samo vidjeti svijet u pjesnikovim suzama.
***
Continuo querendo a vida
Como prova de que ela tambem quer a mim
Como a terra quer quer a chuva
Como o beijo na boca da mulher que mais desejo
Como um rei sentado em seu castelo
Andando pelo mar na noite escura o brilho da lua, o meu corpo sem roupa
como vim ao mundo em choro e fui ensinado a cantar a musica da vida sem mais parar
aprendendo a voar a tocar o mar sem me afogar, beijar a terra sem me sujar
pegar as rosas sem as magoar, ver o fundo do mar como olho as estrelas
Apenas quero ver o mundo nas lagrimas do poeta.
***
I still want life
As proof that she wants me too
How the earth wants the rain
Like the kiss on the mouth of the woman I most desire
Like a king sitting in his castle
Walking by the sea in the dark night the moonlight, my body without clothes
how I came to the world in tears and I was taught to sing the song of life without stopping
learning to fly to touch the sea without drowning, kissing the land without getting dirty
take the roses without hurting them, see the bottom of the sea as I look at the stars
I just want to see the world in the tears of the poet
2. HAEVEN KIDANE 1993 AF ETH Addis Ababa
Odlučila sam da budem sa tobom
Uprkos svemu, biram da budem sa tobom.
Rok je bio moja fantazija,
kruna je bila moja žudnja,
pobjeda je bila moja želja.
Ipak, uprkos svemu što sam izabrala, biću s tobom.
Jednom sam se potukla sa voljenim.
Potukla sam se sa prijateljem.
Potukla sam se sa sopstvenim mislima.
Potukla sam se s Bogom.
Pa, da bih mogla biti s tobom.
Kako život postaje sve mračniji,
kako mi se put zakrčio,
dok se moja ljepota topila
dok sam gubila kontrolu nad bolom,
odlučila sam da budem sa tobom.
Iako je moj život u haosu,
iako sam sama,
iako mi puno glasova mrmlja kroz mozak:
bez obzira na sve, izabrala sam da budem s tobom.
Odlučila sam da budem pored tebe kada tornado stigne,
odlučila sam da te držim za ruku kada je bitka.
Jer, dušo, kad nisam sa tobom
živim u agoniji.
Osjećam se kao da hodam po oštrim iglama,
osjećam se kao da sam luda.
Svaki moj pokret postaje tamniji.
Moj ukus je gorak,
svaka ljepota postaje plitka,
svaka pjesma postaje dosadna.
Jer, dušo, miš si u mojoj kući kojeg nisam mogla naći.
Natjeraš me da vrištim,
iznerviraš me,
uplašiš me.
Uprkos našim razlikama, još uvijek te volim viđati.
Uprkos svemu, ne želim da odeš.
Radije biram bolan život s tobom
umjesto radosnog života koji te ne uključuje.
Bez obzira na sve, bez obzira, izabrala sam biti s tobom, dušo.
***
I chose to be with you
Despite everything I chose to be with you
Rock has been my fantasy
Crown have been my crave
Victory has been my desire
Yet, despite everything chose I to be with you
I got into a fight with my beloved once
I got into a fight with a friend
I got into a fight with my own thought's
I got into a fight with God
So, that I could be with you
As my life gets darker
As my path got blocked
As my beauty malt away
As my pain gone out hand
I choose to be with you
Even though my life is mess
Even though I am alone
Even though a lot of questions murmuring through my brain
No matter what, I chose to be with you
I chose to hang by your side, when the tornado comes down
I choose to hold your hand, when there is a battle
Cause babe, when am not with you
I live in agony
I feel like walking on sharp needles
I feel like am insane
My every move gets darker
My taste turn into a sore
Every beauty becomes shallow
Every song gets boring
Cause babe you're a mice in my house that I couldn't find
You make me scream
You make me annoyed
You make me scared
Despite our difference I still love seeing you around
Despite everything I don't want you to leave
I rather leave a painful life with you.
Rather than joyful life that doesn't include you
No matter what, no matter when I chose to be with you babe
3. MARK BENTSIL 2000 AF GHA Ajumako Bisease
ZAR NE ZNAMO GDJE NIL SPAVA?
Za naše vječno zadovoljstvo,
dom je zasićen blagom;
dječje nezahvalne oči vide
ipak- slijepe za Tebe, ponosne što jesu.
Oh, napuštena si, majko
od sopstvenog sina i ćerke
u potrazi za najboljom, moćnom
vodom da utoliš žeđ.
Oh, srećni prsti,
zašto sada prosjačimo?
Zašto bismo se mučili i mučili
na sadističkom, čudnom tlu?
Oh srećni prsti,
zašto smo sada prosjaci?
Zašto bismo se koprcali po toj zemlji,
dok je majčino zlato pijesak?
Vlasnici moćne vode, zašto?
Moraju li žedni jezici drhtati i plakati?
Zar ne znamo gdje Nil spava?
Zar ne znamo gdje Nil spava?
DON'T WE KNOW WHERE THE NILE SLEEPS?
For our eternal pleasure
Home is sated with treasure;
Children's ungrateful eyes see
Yet blind of You proud to be.
Oh, you're deserted Mother
By your own son and daugter
In search of the mighty best
Water to slake our thirst.
Oh fortunate fingers,
Why are we now beggars?
Why should we toil and toil
On a sadistic strange soil?
Oh fortunaten fingers,
Why are we now beggars?
Why should we moil on that land
While Mother's gold is sand?
Owners of mighty water, Why
Must thirsty tongues tremble and cry?
Don't we know where the Nile sleeps?
Don't we know where the Nile sleeps?
4. KENNETH CHERUIYOT 1992 AF KEN Molo
RECI MI…
Kad osjetiš da više nisam tvoja šolja kafe,
potapši me po leđima i reci mi.
Kad osjetiš da se interesovanje udaljava sa Harmattan vjetrovima, reci mi …
Kad osjetiš da bi moji cikloni i tornadi trebalo da me ponesu, reci mi …
Kad osjetiš da ti srce više ne preskače zbog mene, već samo za drugog, samo mi reci …
Kad osjetiš da više ne topim ti srce, već se samo duboko ledi, reci mi …
Kad osjetiš da se sve što sam ikada učinio za tebe svodi na nulu, reci mi …
Kad osjetiš da su sve moje žrtve samo vreća mrzovoljnog otvora, reci mi …
Kad osjetiš da moje vrijeme i pažnja ne znače ništa, reci mi …
Ako si našla nekog boljeg sa shea maslacem, reci mi …
Kad osjećaš da ne možeš biti vjerna mom srcu i odana mojoj ljubavi, onda me pusti da odem sa svojom krunom odanosti,
Ako nisam tvoja omiljena čaša vina, pusti me da jednostavno odem sa čašom.
TELL ME…
When you feel I am no longer your cup of coffee, pat me on my back and tell me,
When you feel that your interest is moving away with the Harmattan winds, tell me…
When you feel that my ever presence should be carried away by cyclones and tornadoes, tell me…
When you feel that your heart no longer skips a beat for me but only skype for another, just tell me…
When you feel that I no longer melt your heart but it only deep-freezes, tell me…
When you feel that all I have ever done for you doesn't count even on a null scale, tell me…
When you feel that all my sacrifices are just a sack of sullen orifice, tell me…
When you feel that all my time and attention amounts to nothing, tell me…
If you have found someone better with Shea butter, tell me…
When you feel that you can't be true to my heart and loyal to my love, then let me walk away with my crown of loyalty,
If I am not your favourite shot of wine let me just walk away with the glass.
5. IKRAM MOUSSADDEK 2001 AF MOR Casablanca
IZGUBLJEN U RAJU
Privlačiš se ka meni u svojoj mekoj haljinici,
dječji smijeh sredinom aprila…
Tratinčice su bile po cijeloj zemlji, a nebo je bilo naš krov.
Ali, nije bilo dovoljno visoko da bismo letjeli
niti dovoljno gostoljubivo da se pomolimo.
Tako smo prskali parfem kroz čist vazduh,
jer sam te uvjerio da ćemo samo tako ostaviti svoj miris
i otisak na mjestu koje nije naše.
Sanjamo i sanjamo i kvasimo jastuk zaslađenim snovima,
slađim od tragedije i jasnijim od moje vizije stvarnosti.
Nije bitno, obećavam ti to.
Zapravo, nije važno, pa sam počeo nositi tu malu, prepuklu masku,
nazvavši je životom bez iskrivljenih posljedica.
I nikada stvarno nećeš razumeti,
jer sam te dovodio sebi mirisnim svijećama
koje se tope kao snovi o životu u mekšim filterima,
a uskoro će mirisi nestati kao da se nikada nisam dogodio jer,
naprotiv, nikad ne mogu mesto označiti mirisom.
Biće zauvijek utisnut i urezan u sjećanje,
ali nikad me ne možeš naći.
Hoće ki te biti briga?
I povući me nazad?
Tjeraj me da pijem slatki čaj i jedem kolač od vanile,
sa cimetom- slađim od moje nostalgije,
i dubljim od melanholije.
Vodi me kroz ovo.
LOST IN PARADISE
Pulling towards me in your soft little dress,
Childlike laughter in the middle of April.
The daisies were all over the ground and the sky was our roof,
But it wasn't high enough for us to fly
Or welcoming enough for us to pray.
So we sprayed perfume en Plein air
Because I convinced you that's the only way we will leave our scent,
And print, in a place that's not ours.
We dream and dream and wet the pillow with sweetened dreams,
Sweeter than the tragedy, and clearer than my vision of reality.
It doesn't really matter, I promise you that,
It doesn't really matter, so I started wearing that little cracked mask,
Calling it a life without twisted consequences,
And you'll never really understand
Because I guided you to me with scented candles
That are melting like my dreams of a life in softer filters,
And soon the scent will disappear like I never happened because,
On the contrary, I can never mark a place with a scent,
It will be forever printed and carved in the memory,
But you can never find me.
Will you give a damn?
And pull me back?
Make me drink sweet tea and eat vanilla cake,
Cinnamon sweeter than my nostalgia,
And deeper than this melancholia.
Guide me through this.
6. RAISSE ANTÓNIO 1999 AF MOZ Nampula
(Author did not send poem for the next round / Autor nije poslao pjesmu za sljedeći krug.)
7. PALAKIYÉM KONGA 1998 AF TOG Kara
A KULUU KIBALAA NƐ PANA
A kuluu kibalaa nɛ pana Ŋzima nɩŋzɩ pebiya wɛ pɔtɔkɩ kɩñoŋ yɔ Ŋzima nɩŋzɩ pebiya wɛ pɔtɔkɩ ñɔsɩ yɔ Alɩwaatʋ ŋdʋ nabɛɛ ɩnaɣ ŋmbʋ palabɩnɩ pelidiye yɔ Alɩwaatʋ ŋdʋ nabɛɛ ɩnaɣ ŋmbʋ palabɩnɩ patɔnaɣ yɔ A kuluu kibalaa nɛ pana Ŋzima nɩŋzɩ pagʋʋ pebiya Ŋmbʋ pɩyɔ pɛkɛ Ɛyaa kɩkpɛeda Padʋʋ wɛ se tɛtɛgbɩna Pamakɩ wɛ ŋzɩ tɛtɛgbɩna A kuluu kibalaa nɛ pana A kuluu kibalaa nɛ pananɩ pɛɛza Ŋmbʋ nɩɩzɩ pɩrɩɣnɩ ɖɔm ɛdjaɖɛ daa yo? kɩdɩkɛdɩm baa le! Calɩm baa le! Kʋñɔŋ baa le! Kɩdomɩŋ baa le! Malɩfɩnaɣ taŋ baa le! Laŋhɛzɩyɛ fɛyɩ laŋhɛziyɛ leba A kuluu kɩbaala nɛ pana Piya ŋzɩ sɩzɩbɩ Kɔŋguo sika pɔŋ taa yɔ? Piya ŋzɩ sɩzɩbɩ Paŋgi yow taa yɔ Halaa, abalaa nɛ piya ŋmba perem Mediteɖanee teŋgu taa yo Ɛyaa ŋmba ɖoŋdɩnaa ɖɔnɩɣ pamaɣmaɣ pɛtɛtʋ yɔɔ yɔ? Laŋhɛziyɛ leba Laŋhɛzɩyɛ fɛyɩ Ɛlɛ Laŋhɛzɩyɛ gaɣ kɔm Ye ɖidisaa se ɖɩkpɛŋdɩ ɖɔnɔsɩ nɛ ɖɩya kɛ Mɔŋgɔ naa nɛ maŋɖalaa, Maŋdja naa nɛ moŋɖoo naa, Ɛkɔɔ ɖɩkpndɩ ɖɔnɔsɩ nɛ ɖɩya laŋhɛzɩyɛ Ɛdjaɖɛ yɔɔ!
8. EVELYINE RICKI KAKYO 1979 AF UGA Kampala
LJUBAV NA LATICAMA
Njena originalnost, mama mi je pričala,
su na laticama pisana ljubavna pisma
koja su opisivala ljepotu, eleganciju,
njenu strast, slatke i nježne usne.
Njen strastven osmijeh je uvijek donosio radost.
Ljubav, napisana na laticama, koja nikada ne presuši.
Kad padne kiša- niču, puštajući Nevidljivu, preslatku ljubav. Blistali su, sijajući kroz mračne trenutke:
daljina i slatka, mirisna ljubav što počiva na laticama.
Ljubav ispisana na laticama: mnogi su došli,
zagledani u napisanu ljubav na laticama.
Divili su se i pitali se:
kakva ljubav, ispisana na laticama?
Mama mi je rekla. Prava ljubav je na laticama.
LOVE ON PETALS
Her originality, my mama told me,
Love letters were written on petals, Describing her beauty, her elegance,
Her passion, her sweet and tender lips,
Her passionate smile, always brought joy
Love written on petals, that never go dry,
When it rains, they sprout, letting out Invisible, adorable love, they glowed, Shining through the dark moments,
Far from each other, the sweet smelling love, rested on petals.
Love written on petals, many came,
Staring, at the written love on petals,
They admired and wondered!!
What kind of love, written on petals!
Mama told me. True love on petals
9. JOHAN CHANDA 1998 AF ZAM Lusaka
ŠTA SMO?
Snop šibica na kiši?
Razum izgrađen religijom i zvižducima društva?
Um ispravnog i pogrešnog…
Šta je ispravno, a šta pogrešno?
Nikad ne znamo da li naša nepravda može biti ispravna,
a naša pravda pogrešna.
Ko smo ?
Politički vrat?
Razmjena obećanja za glas?
Šta smo mi?
Skakavci koji su napali sopstveni habitat, sjekući drveće da bi zaradili novac;
ali ti to znaš:
priroda nema cijenu na rokovima trajanja.
Da li smo mi naša tijela?
Svježi?
Odmjeravanje ravnoteže života između iglene ose bola i zadovoljstva?
Možda smo
Duh?
Od kojeg je religija svoju svestranost stavila u doktrine čoveka, čija je mudrost napeta nit čistih Božjih misli…
Da li smo mi internet?
Hranimo li se memovima, modom,
ažuriranjima fudbala, vijestima o ratu i politici?
Možda smo priroda?
Dio prašine koji ulazi u naše nozdrve i kašalj:
je li to zvuk kojem idemo?
Tlo je, bez tebe, zlo.
Zemlja i duša- zajedno su prah.
Ako smo samo tlo, onda je to knjiga
i naša era je zadnje poglavlje.
Možda smo eksperiment u epruveti,
pa vanzemaljci ispituju i eksperimentišu, testirajući krajeve neznanja,
pokušavajući spoznati granice elementa koji se zove um?
Možda smo svi likovi u romanu,
svako sa svojim scenarijem ili sa strane,
ali: da li autor uživa u siromaštvu, gladi i ratu
na svojim stranicama?
Pretpostavljam da se svaki pisac trudi
da zabavi svoju publiku ne razmišljajući o likovima!
Možda, možda, možda ..
Možda smo mi film:
veliki bioskop zvani život. Siromašni svi glume, bogati svi glume…
Možda ne čitaš moju pjesmu.
Možda sanjaš ili ne, zar ima razlike?
Ti samo vjeruješ svojoj svijesti,
ali vjeruje li ona tvojoj stvarnosti?
Hmm .. Šta smo mi?
WHAT ARE WE ?
Sticks of matches in the rain ?
A conscious built by religion and whistles of society ?
A mind of right and wrong
What's right and wrong ? We never know whether our wrongs can be right and our rights can be wrong
Who are we ?
A political neck ?
An exchange of promises for a vote ?
What are we ?
Locusts that have invaded its own natural inhabitant ,cutting down trees to make money
but ye know this
Nature has no price tag on the shelf of life,
Are we our bodies ?
Fresh ?
Weighing a balancing of life between the needle axis of pain and pleasure ?
Maybe a
A spirit ?
Of which religion has made its versatility caged to doctrines of man who's wisdom is a strained of hair of God's pure Thoughts,
Are we the internet ?
Feeding on memes ,fashion ,football updates ,news of war and politics ?
Maybe we are nature ?
A part of dust that enters our nostrils _ and the cough of it ,is of the sound of where we are going ?
The soil is without you "u "
,"soil ,soul" but with I " soil ",
If we are but the soil ,then its a book and our era is of it's last chapter ,
Maybe we are an experiment in a test tube being examined and experimented by extraterrestrials ,testing the ends of ignorance ,
Wanting to know the bounds of an element called mind ?
Maybe we are all characters in a novel ,
Everyone with his script or side , but does the author enjoy the poverty ,hunger and war in it's pages ?
I guess every writer does his best in entertaining his audience not giving thought of the characters !
Maybe ,maybe , maybe..
May be we are a movie
A big Cinema called life ,the poor all act ,the rich all act
Maybe you're not reading my poem
Maybe you're dreaming or may be not but what's the difference still ?
You just trust your conscious ,but does it trust you and how real are you ?
Hmm.. What are we ?
1. NWEKE EVIDENCE MUSER 1995 AF NIG Abakalii
DOK ZEMLJA NOSI NOVO RUHO
Svraka bez majke
prestaće da živi; zemlja koju poznaje
biće čudna šuma Sahare u sjaju.
Biće primorana da se dokrajči smrtnim perom.
Ko upozorava, lupajući na svačija vrata?
Otključaće se dan, da časno umrem, u trudu.
Tada će poroci nositi hiruršku odoru
i glad- podižući trijumfalne zastave prije svakog svitanja.
Bezazlena bolest
u impulsnoj agresivnosti.
Odajemo gušteru, kralju preljube,
najljubazniji omaž
i svjetla će biti primorana da napuste
njegove tame na mutnoj stranici.
Živa svjetla postaće zamorna,
a život će biti neukusan za pobožne.
"AS EARTH WEARS NEW GARMENTS"
A magpie with no mother
Will cease its live; a land he know
Shall be a strange Sahara forest in glow
He shall be forced to fortify himself with death's feather
Who warns, tooting in everyman's door
Unlocking a day to die honorably in labor
Then vices shall wear surgical gown
And hunger lifting triumphant flags before every dawn
An innocuous illness
In impulse aggressiveness
We pay a lizard, king of adulterants
A kindest homage
And lights shall be forced to desert its fets
Of darkness in a dim page
A living lights will grow tedious
And life shall be tasteless for pious
2. SAMUEL NNADI 1999 AF NIG Lagos
SMRT U JESENjOJ KOLIJEVCI
Svaka zima se sretne sa decembrom koji jede čudna jela.
Ovdje je nova decenija.
Proljeće je prostrlo zavjesu od drveća
i vrijebalo čovjeka na njegovom krevetu…
Sunce mu zalazi na leđa i sviće kroz krvni pritisak…
Zima je testirala njegovu invalidnost
i svake druge sezone nosila je taj imidž
u njegovoj blizini.
Sreli smo ljeto kako liže damu koja je zrela u noćnoj septičkoj jami ..
Pažljiviji pogled nam je pokazao da njen život nije vrijedan kupovine narednog dana.
Sa vlažnog leša dječaka podigao se teret snijega
i glasna visina jesenje siluete modulisana je u naduvenoj tužbalici njegove majke.
Čovjek je zaboravio zalogaj svog otiska u pustinjskom pijesku.
Poremećeno sunce je pokušavalo da ga razloži, ne obazirući se na zauzet raspored …
Regrut zimskog povjetarca jednom je označio tinejdžera
i izduvao ga u podstandardni alkotest, provjeravajući ima li etanola koji je sakrio u džepu na grudima.
Baš juče
umrla je žena, blijeda kao para- izdahnuta u zemlju.
Kovali smo njen drhtavi sarkofag u božićnom crvenilu, vezanih očiju.
I jesen je zasniježila u dobro izoštrenom bajonetu, da se igrala istine ili izazova u sopstvenoj kolijevci.
DEATH IN AUTUMN'S CRIB
Every winter meets december eating weird dishes.
it is a new decade around here.
spring heralded a curtain of trees & ambushed a man on his bed ..
the sun sets at his back & rises in his blood pressure..
winter tried his invalidity on ..
& every other season wore a disabled look around him..
we met summer licking a lady ripe in a nocturnal cesspit ..
a closer look told us, her life wasn't worth the next day's purchase..
a burden of snow was lifted from the wet corpse of a little boy..
& the loud pitch of autumn's silhouette was modulated in the bloated dirge his mother inks..
a man forgot a morsel of his footprint on a desert sand..
the deranged sun scampered to decay it, not minding it's busy schedule..
a recruit of winter's breeze once flagged a teenager down..
& pulverized him into a sub standard breathalyzer, checking for the ethanol he hid in his breast pocket..
just yesterday..
a woman died, pale as a vapour exhaled into the earth..
we forged her shivering sarcophagus in crimsons of a blindfolded yuletide..
& autumn came snowed in well sharpened bayonet, to play the truth or dare game in her crib.
3. EKEOMA PRINCE SUNNY 2000 AF NIG Aba
(Author did not send poem for the next round / Autor nije poslao pjesmu za sljedeći krug.)
4. RAPHAEL TERSUWE AKAAYAR 1995 AF NIG Makurdi
DNEVNIK LOŠEG MOMKA
(ZAŠTO SE DOBRI MOMCI KVARE)
Rano sam naučio da kažem "izvini",
kako liječi rane koje zdravom dušom krvare,
kako bijes u potpunosti topi,
kako rađa ljubav, povjerenje je sveto.
Kako je mapiran uzorak, poniznost.
Izvinio bih se zbog grešaka kojih se ne sjećam. Zar to nije pogrešno?
Nekad me tretiraju i smatraju slabim čovjekom, o, čovječanstvo!
O, čovječanstvo!
Ponekad sam se saginjao da bih brinuo,
voljeh svako slovo humanosti!
Prodao sam svoj ponos.
Prodao sam poštovanje.
Ali, ovo sve je oštar nož u grlu!
Mislio sam da je bolje ispravno živjeti kao čovjek … kao čovjek!
Sad mi je muka od ovoga!
Treba mi lijek … tableta …
… da ubijem svoju savjest!
DIARY OF A BAD GUY
(WHY THE GOOD GUYS GO BAD)
I learnt early to say sorry
How it heal the wounds that bleeds the soul healthy
How it sink anger melting in wholly
How it breed love, trust is holy
How so mapped the sample, humility
I would apologize for the faults I can't remember committing. Isn't it faulty?
The times I am treated & thought of, as so weak a man indeed, oh humanity!
Oh humanity!
Sometimes, I bent low to care, I loved every word h u m a n !
I sold out my pride
I sold out my respect
But these all as sharp knife to my throat!
I thought that's better right to live as human…as human!
Now, I am sick & down with this!
I need a cure…a pill…
And that is…to kill my conscience!
5. OKORIE CHUKWUKAMMA MEMBIS 1999 AF NIG Ubaha – Akuma
POKLONjENA LJUBAV
Naše duše su napravljene od šarenih fragmenata
iz dalekih zvijezda svijetlih i beskrajnih.
I, na kraju ovog putovanja
uspjeli smo stići do besmisla.
Sve bogatstvo bi bilo uzaludno…
Kakva sramota! Šta je potrebno za slavu?
Nema sumnje u ove riječi sa usana.
Da, moja najdraža, otkucaji srca…
Svaka druga stvar bi izblijedjela i propala
ali ljubav, poklonjena ljubav, uvijek će ostati.
Neostvareni snovi nisu bitni,
nedovršene kuće ne bi smjele da nas muče.
Automobili, potpuno novi, jednog dana će biti pradjedovi
i svaka druga stvar, materijalna,
završiće ​​u plamenoj tamnici.
Oh! Moj blizanački plamenu i princezo,
stvorimo mliječne uspomene, tako lijepe:
strastvene zagrljaje- duboke i beskrajne.
Osvijetlimo duh, da bismo zablistali;
ostanimo srećni poput mirnog potoka
ma koliko ovi ratovi izgledali teško…
Daj sve, slobodno, kako i primaš.
Budi iskrena, da tvoj glas nikog ne bi prevario,
jer na kraju ovog putovanja:
svaka druga stvar bi izblijedela i propala,
ali ljubav, poklonjena ljubav, uvijek će ostati.
Ljubi me kroz noć do dnevnog predaha.
Ostani sa mnom, ne dozvoli da mi krhko srce pukne,
oh! Moja ljubavi i dušo,
nikada ne dozvoli da ova ljubav propadne.
Moja oazo i sunce,
moje svježe voće i palmino vino,
ništa zapravo nije važnije od ljubavi koju dijelimo.
Zato ne idi daleko, ostani ovdje i budi blizu, moja draga,
jer na kraju ovog putovanja
svaka druga stvar bi izblijedela i propala:
ali ljubav, poklonjena ljubav, uvijek će ostati.
LOVE GIVEN AWAY
Our souls are made of colourful fragments
From far stars bright and ageless
And at the end of this journey
Where we were able to get to makes no sense
All the wealth would be in vain
What a shame! What's the need for fame?
There is no doubt to these words from my mouth
Yes my dearest one and heartbeat
Every other thing would fade and decay
But love, love given away will always stay
Dreams unachieved do not matter
Houses uncompleted should not make us bother
Cars brand new will someday be ancestral
And every other thing material
Would all be gone into flaming dungeon
Oh! My Twin Flame and Princess
Let us make milky memories so lovely
Passionate hugs deep and endless
Let us lighten up our spirits to shine brightly
Let's remain happy like the peaceful stream
No matter how hard these wars might seem
Give everything freely as you receive
Be honest so your voice would no one deceive
For at the end of this journey
Every other thing would fade and decay
But love, love given away will always stay
Kiss me through the night till day break
Stay with me, don't let my fragile heart crack
Oh! My love and Sweetheart
Never let this love we hold fall apart
My Oasis and Sunshine
My freshest fruit and Palmwine
Nothing really matters than this love we share
So don't go far, stay here and be near my dear
For at the end of this journey
Every other thing would fade and decay
But love, love given away will always stay.
6. FAWAZ SALMAN (Prince Guy) 2001 AF NIG Osun
ZA BAKROPISE, ZA SVRAB KOJI SU POSTALI
Neki bakropisi i neki svrab
bili su poput skrivanja tijela u kosmosu
tame i
zaogrnuše tvoju kožu prolaznim sijenkama.
Najsnažniji, koji drži vodu,
sada izlazi iz sopstvene kože;
jer izgubiti radost znači vidjeti život kao gosta,
vidjeti kako Smrt postaje domaćin
kako sam postaješ prikaz tame:
jer ne nosiš drugi oblik osim vode,
slušajući otrovne melodije
i pazeći na svoje snove,
provaljujući u oskudne stvari.
Neki bakropisi i neki svrab
bili su izgrebane posude neuslišenih molitvi:
pretvarajući se u puderaste očnjake svojih svakodnevnih bolova
koji oči boje u crveno
svaki put kad ih nosiš na licu.
I tuga je otrgla
snagu tvog srca,
čineći ga preslabim za ratni neuspjeh.
Možda ne znam himnu tvog srca,
ali znam da bi spori ples džeza
oduvao ostatke tvoje nade u prazno nebo.
I znam vatru tvog bola
koji nosiš u uznemirenim mislima,
otkriva ih prvi u nizu tvojih turobnih uzdaha.
Čuj, majka je rekla da je život neosvijetljeno more
koje te gubi u olujama koplja
i košmara noći.
Majka je rekla,
nastanićeš se u napuštenim ponorima i
vidjećeš svoju svjetlost
obješenu među užadima.
Ne znam
hoćeš li je naći.
Ne znam da li je utjeha u kandžama konopca
i klupka lanca,
ali vjeruj mi: samo u mraku
jezera mogu postati zemlja široke tišine.
FOR ETCHINGS, FOR ITCHINGS THEY HAVE BECOME.
some etchings and some itchings …
were like hiding your body in the cosmos
of darkness, and
shrouding your skin in tenebrosity of crowdy shadows.
the Strongest who holds water
now falls out of his skin,
because to lose joy, is to see life appearing as guest,
death becoming the host
and yourself, becoming the Show of darkness
because for you to wear no other shape than water
is to listen to the venomed melodies
and watch your dreams
breaking into scanty things.
some etchings and some itchings
were like grinded vessels of unanswered prayers,
turning into powdery fangs of your daily pains
that paint your eyes to red
each time you wear it on face
& the sorrow that plucked away
the strength of your heart
making it too weak to war failure anymore.
I may not know the anthem of your heart,
but I know the slow dance of it's jazz
would blow the remnants of your hope into empty sky.
& I know the fire of your hurts,
that you carried on your troubled thoughts
would be revealed by one of your dreary sighs.
hear, mother said life is a lampless sea
that has lost you into storms of spears
& the nightmares of the night.
mother said,
you would dwell in the forsaken abysses and
see your light
hanging amongst the hacking ropes
I do not know
if you would find it,
I do not know if solace is in clutches of rope
and tangles of chain,
but believe me, only in the dark
would lakes become the country of wide silence.

ASIA AND AUSTRALIA
1. ELIF SEZEN 1981 AU AUS Melbourne
ALHEMIJA IZGUBLJENIH VEZA
Ako sam ostavljena ovdje samo da bi me našli,
noć koja miluje zidove duše
otvoriće krila prije nego što se zatvori
još jedna noć- poput poklopca:
šolja za čaj će ostati prazna,
ostaće nepojedene mandarine,
hljeb će ostati – za onu prazninu nakon propadanja;
a prašina je zasluženi prostor
koji je nekad neko odsanjao.
Možda će je blagosloviti neko drugi,
doći će vriieme i za to:
da se sve ispuni, poput mračnog ponora
vječno otvorenih usana himere –
koja i ne dobija šansu uplašiti.
Ostavljena ovdje da budem nađena,
samo do tada,
dok se granice uklanjaju jedna po jedna,
vraćam alhemiju izgubljenih veza.
Svako od njih će pitati
'Ne znam zašto sam čekao, šta me je održalo snažnim?'
Da, i ovo sam se pitala, da …
Živjela sam tačno poput njih,
poput planine:
bez korijena, moćanna, a opet krhka,
obavijena životinjskom radošću
koja se ne uklapa ni u jednu pjesmu.
THE ALCHEMY OF LOST CONNECTIONS
Being left here just so will find me out,
the night that caresses the walls of a soul
will open its wings before it closes upon
another night like a lid, the teacup on the
table will remain empty as long as it can
uneaten mandarins will remain, bread will
remain — for the void following the decay
and dust is an earned space, it was dreamt of
by someone once, perhaps it will be blessed
by someone else, the time will come for it to
be filled, like the pitch-black abyss of an
eternally opened mouth of a chimera —
not even giving a chance to frighten
Being left here just so will find me, just so long as,
while the borders are being removed one by one,
I retrieve the alchemy of lost connections.
Each one of them will ask:
'I don't know why I waited, what kept me strong?'
Yes, this is what I asked too, yes … I lived
exactly like them, like a mountain
with no roots, mighty yet fragile, embracing
the animal joy that doesn't fit in any poem.
2. ALPARSLAN OGHUZ 1986 AS AZE Baku
IZDAJA
Kad se umoriš od šporeta, drva;
kad se prehladiš, usamljenost te ledi:
u tuđem naručju, u tuđem krevetu,
Suicid se vraća u dušu, krade ti vid.
Tama zasljepljuje oči,
umoran si od sebe.
Zgražavaš se u ogledalu,
i kad se pogledaš u oči … stidiš se.
Fali ti nepoznati čovjek sa češljem u kosi:
stid te je od te žice zamotane oko prsta,
od tog tijela u njegovom naručju
koje miluje, miluje…
I stidiš se njenog lica.
Mjesto izdaje vatrenih ti ruku,
dok se sramiš prstena na prstu.
Uklonivši prsten sa prsta,
brzo ga bacaš u džep.
Ubica si te čiste ljubavi:
prodaješ je, izdajom.
Navikni se na prevarantsko tijelo,
jezik ti je naviknut na laži.
Tvoje ruke govore, tvoje lice govori
tvoja kosa govori, tvoje oči govore:
strast, kukanje, puno laži…
Ako se navikneš na ove uzdahe,
u grijehu duše…
Anđeo sa desne strane ćutaće dovijeka.
Anđeo lijevo, govoriće…
A, kad se probudiš,
probudiće te dodir ruke iz mraka:
"Da ti ispričam san?" kaže žena.
Ti ćutiš, izgledaš jadno
pred čistoćom u njenim očima.
Otvaraš fioku,
pališ cigaretu, ona gori.
Kad izgori, i ti ćeš nestati …
"Xəyanət"
Yorularsan ocağından, odundan,
Soyuyarsan… tənhalığın buz tutar.
özgə qollarında, özgə yataqda,
*Qana dönər intiharın, göz tutar.
Qaranlığın qamaşdırar gözünü,
Özündən də bezərsən, usanarsan.
İyrənərsən ayanadakı özündən,
Gözlərinə baxarsan …utanarsan.
Saçlarına daraq olan yad əldən,
Bədənində salxımlanmış o teldən,
Qucağında xumarlanan o təndən,
Özgə əllə sığallanan, oxşanan,
Tellərindən, üzündən utanarsan.
Yanar əllərinin xəyanət yeri,
Barmağında üzükdən utanarsan.
Çıxararaq barmağından üzüyü,
Tez cibinə… uçuruma atarsan.
Qatili olarsan o pak sevginin,
Öz sevgini, xəyanətə satarsan.
Alışar xəyanət edən bədənin,
Alışar yalanlar söyləyən dilin.
Əllərin danışar, üzün danışar
Saçların danışar, gözün danışar,
Ehtiras, inilti, yalanlar dolu,
Qulağın da dözməz dinər danışar.
Alışarsan bu ahların içində,
Ruhu didən günahların içində.
Sağında mələyin ömürlük susar,
Solunda mələyin susmaz, danışar…
Diksinərsən ayilarsan yuxudan,
Qaranlığdan bir əl sənə toxunar.
"Yuxumu görürdün?" – deyər qadının,
Susqun-susqun, yazıq-yazıq baxarsan,
Qadınının gözündəki saflığın,
məhəbbətin alovunda yanarsan.
Əl uzadıb çəkməcənin üstünə,
bir papiros yandırarsan… közərib,
Tüstü-tüstü, sən də yoxa çıxarsan…
3. TIANYU 1994 AS CHI Taian
Ljubav je osjećanje
Ljubav je osjećaj, ljubav je san.
Oči su ti tako tople i nježne poput proljećnog povjetarca.
Ljubav je osjećaj i ljubav je san.
Oči su ti poput zimzelene melodije.
Davno, davno;
baš kao bezglavi mrav,
nisam imao nikog da me voli
i usamljenosti je bilo teško pobjeći.
Pošto smo se sreli jednog dana,
bila si kišna kap što mi posla poljubac
i srce je odjednom puno energije,
i može skakati na obje noge.
Od tada: sva oblačna raspoloženja ne mogu me prevariti,
samo zato što si ti sa mnom.
Izrastam u nešto prelijepo iz ovog malog sjemena,
samo zato što si tu,
bez ikakvih dodatnih razloga.
Raspršuješ sve tuge.
Ljubav je osjećaj, ljubav je san.
Oči su ti tako tople i nježne poput proljećnog povjetarca.
Ljubav je osjećaj i ljubav je san.
Oči su ti poput zimzelene melodije.
Uz note ovog trenutka, sreća nikad neće nestati.
Različitije je nego ikad prije:
uvijek izmamiš jak i svjež otkucaj srca.
LOVE IS FEELING
Love is feeling and love is a dream,
Your eyes are just so warm and gentle like the spring breeze.
Love is feeling and love is a dream,
Your eyes are just like the evergreen melody.
Long long time ago,
Just like an ant who was headless,
I hadn't gotten anyone who loved me and the loneliness was hard to escape.
Since we met one day,
You just like the raindrops from the sky who blew me a kiss,
My heart was full of the energy,
And only can jumped in with the both feet.
Since then all the cloudy moods forever can't do the trick,
Only because you can be with me.
Growing into something beautiful is from this little seed,
Only because you're here,
Without any reasons but already dissipate all of the griefs.
Love is feeling and love is a dream,
Your eyes are just so warm and gentle like the spring breeze.
Love is feeling and love is a dream,
Your eyes are just like the evergreen melody.
Playing the melody in a moment and the happiness won't be disappeared.
More different from the past,
Always you made me had this kind of fresh heartbeat.
4. REEMA BAKOSE 1997 AS IRQ Bagdad
DUBINE NIČEGA
Tonući u nigdje,
ostajem smirena
skupljajući greške
u jedan smiraj dana.
Brujanje me ne ostavlja samu
i tišina tvoja me uzbuđuje.
Mrak te poznaje bolje od mene
i zato mi oči otuđuje.
Zadržavajući dah da osvijetlim promjenu,
ostajem zamagljena iznutra.
Sjećanja pokušavaju da mi pristupe umu
dok otkrivam plamen iznutra.
Ti pripadaš toj strani:
tamo gdje su stvari čiste i jasne.
Srce tamo ništa ne osjeća,
mirno je- u dubini ničega,
tamo gdje želim biti.
Izvinite za moju komu,
moram se osloboditi.
DEPTHS OF NOWHERE
Sinking into nowhere
Staying calm
Containing my mistakes
At one night's dawn
the humming noise left me not alone
And the silence of you makes me aroused upon
Darkness knew you better than I
When I closed my eyes
Holding my breaths to enlighten a change
I'm still blurred from the inside
Memories trying to access my mind
While I discover the flame inside
You belong to that side
Where things are pure and clear ,
the heart feels nothing there ,
Calm inside the depths of nowhere
Where I want to be
Excuse my coma ,
I'm setting myself free .
5. GILI HAIMOVICH 1974 AS ISR Giv'atayim
ZGUŽVANA STRANICA
Tvoje tijelo ne može sakriti svoju biografiju.
Nježnost leti naprijed-nazad.
Želio si biti prazna stranica,
plodna zemlja za drveće, prolaze, laptop ili ženu.
Želja da budemo voljeni je sramotna.
Umjesto toga, dotjeruješ svoj rukopis
i manire.
Koliko prazna može biti zgužvana stranica?
Tvoje tijelo ne može sakriti svoju biografiju,
niti je sadržati.
WRINKLED PAGE
Your body can't conceal its biography.
Tenderness flies back and forth.
You wished to be a blank page,
a fertile land for trees, passages, a laptop or wife.
Wishing to be loved is shameful.
So instead you prefect your handwriting
and manners.
How blank can a wrinkled page be?
Your body can't conceal its biography.
Nor contain it.
6. JOAN LIM (Lim Ean Teng) 1985 AS MYS Penang
ZAŠTO
Majko
zašto pile na tanjiru
nema oči
Ne moramo jesti oči
Majko
dijete plače
Zašto jesti divno pile
WHY
Mother
Why chicken on plate
Does not have eyes
We do not have to eat eyes
Mother
Child is in cry
Why eat lovely chicken
7. MUHAMMAD AZRAM 1984 AS PAK Haripur
O MUDROSTI I VJERI
Na vrlo blistav dan,
kad mi je bilo ugodno
uz pljuskove živosti,
bio sam svjedok mističnog obračuna
između Vjere i Mudrosti
pod sjenkama živog vremena.
Scenski sjaj njihovog prisustva
dok raspravljaju o njihovim konotacijama
u pustoš i raznolikost života
koji traje od zore do mraka.
Svjedočio sam sukobu
između nepomućene i komponovane Vjere
i vrlo oštre i energične Mudrosti.
Vjera je bila vrlo čvrstog stava
da život ne može opstati
na pukoj milosti mudrosti
jer limenke mudrosti, same, prskaju
komade istinitosti, nejasnoće i rasula
I Mudrost se svađa:
obična, puka Vjera
može život odvući u ništavilo.
Vjera ne može istražiti različitosti života.
Život treba mudrost i oštroumnost da preživi.
A onda sam bio svjedok Životu
kako stoji na izvjesnoj udaljenosti,
smijući se ovim prostim osnovama
njegovog raznolikog prisustva,
dok raspravljaju o njihovom značaju
u njegovom sastavu.
"Zašto uvek postoji disparitet
između mudrosti i vjere? "
Ispitivao sam Život na vrlo neljubazan način.
Život se okrenuo i mirno rekao:
"Ovo nije disparitet argumenata,
nego odjeljci za život prema zahtjevima "
"Kada želim da istražujem unutar sebe,
tražim i pokrećem se Vjerom.
Kada želim da istražujem oko sebe,
pozivam i podižem se Mudrošću
i spoznam svijet koji me okružuje."
"Ja (kao život) sam vrlo svestrana kombinacija
akcija, reakcija i zadovoljstva.
Za akcije i reakcije,
Mudrost me kontroliše i vodi.
Ograničenje mudrosti je
da nema ograničenja.
Kad nema ograničenja,
nema zadovoljstva.
Kada Mudrost teži da prekrši svako ograničenje,
Vjera ometa ogromne slobode mudrosti
i blagoslovi me (kao život) unutrašnjim zadovoljstvom
I kad me Vjera odvrati od okoline,
Mudrost stupa da me vodi ka onome što me okružuje."
"I borba između Vjere i Mudrosti,
kontrolišući me (kao život) u različitim trenucima življenja,
ono je što me ograničava na stazama iskričavog života".
ON WISDOM AND FAITH
On a very dazzling day
When i was pleasing
With the showers of vividness
I witnessed the mystical affray
Between Faith and Wisdom
Under the shades of living time
Staged brilliance of thier presence
Arguing about their connotation
In to vaste and diverse flow of life
That life takes from dawn to dusk
I witnessed stern brawl
Between Unruffled and composed Faith
And very sharp and vigorous wisdom
Faith was on the very strong view
That life cannot survive
On the mere mercy of wisdom
Solitary wisdom cans sprinkle life
Into the pieces of veracity, obscurity and disarray
And Wisdom arguing
Plain and sheer Faith
Can take life into astray of nothingness
Faith cannot explore diversities of life
Life needs wisdom and acumen to survive
And then I witnessed life
Standing at some distance
Smiling at the two fundamentals
Of her diverse presence
Arguing about thier significance
In the composition of life
"why there is always disparity
Between wisdom and Faith?"
I questioned life in a very uncouthly manner
Life turned and placidly said
"This is not disparity of arguments
But compartments to live on demands"
"When I want explore within me
I solicit and boot with Faith
When I want to explore around me
I invite and boot with wisdom
And explore world that surrounds me"
"Me (as life) is very versatile combination
Of actions, reactions and satisfaction
For actions and reactions
Wisdom controls me and guides me
Limitation with wisdom is
It has no limitations
When there is no limitation
There is no satisfaction
When wisdom tends to breach any limitation
Faith hamper with vast freedoms of wisdom
To bless me (as life) the inner satisfaction
And when Faith deviates me from my surroundings
Wisdom steps in to guide me to what surrounds me"
"And struggle between Faith and wisdom
Controlling me (as life) on diverse moments of living
Is what that limits me on tracks of spirited life"
8. RUSSEL EDLES 1987 AS PHI General MacArthur
NAMAMLjENA
Srce nevinosti
u jazbini vukova.
Slatki anđeo pada
gdje demon gostuje.
Jeste li je čuli kako moli
za povjerenje iščupano?
Namamio si je slatkišima
kao đavo: trikom ili poslasticama.
Nijedan čovjek ne bi mogao
upropastiti dijete koje blagosilja.
Nijedan otac ne tuguje jače;
usljed mržnje ovako nahranjene.
Prolili smo suze zbog njene majke,
naše saučešće vičemo, da se čuje.
Pravda mora biti zadovoljena,
ali ne osvetom, zaista.
Koliko će nevinih biti zaprljano
da se ​​vidi korijen, a ne zločin?
Problem je daleko od naših očiju.
Ipak, tražimo samo ono što zadovoljava
naša mržnju koja laže.
LURED
The heart of innocence
In the den of the wolves.
A sweet angel falls
Where the demon feasts.
Did you hear her beg
For the trust you ripped?
You lured her with sweets
Like a devil with trick or treats.
No human could do or wish
To ruin a child that blesses.
No father grieves much than this;
A hatred prolonged in the midst.
We shed our tears for her mother,
Our sympathy shouting to be heard.
Justice must be served
Not vengeance, indeed.
How many innocents will be tainted
To see the root not the crime?
The problem is far beyond our eyes.
Yet, we seek what only satisfies
our hatred that lies.
9. AHMET IŞLER 1966 AS TUR Mersin
RĐA MAČEVA
Ti si moj grad od kojeg se ne znam oprostiti.
Zemlja po kojoj ne mogu kročiti,
moja opljačkana zemlja.
Ti si prozor koji se neće otvoriti,
moja kuća gdje ne mogu pokucati.
Prelazio sam blatnjave rijeke,
stajao u razbijenim ogledalima,
boravio u planinskim kućama,
pio planinske vode.
Rđa oštrih mačeva je u mojim venama.
A, pružio sam vjetru ruku za tebe.
Dio mene ne želi otići odavde.
Teško krivično saslušanje:
mnogo otrovnih bodeža u sobi,
dok samo ja gorim kao usamljena lampa.
KILIÇLARIN PASI
Ahmetİşler
Veda etmeyi bilmediğim şehrimsin benim
Ayak basamadığım toprak, yağmalanmış diyarlarım
Açılmayan penceremsin, kapısını çalamadığım evim
Bulanık ırmaklardan geçtim, kırık aynalarda boy verdim
Yayla evlerinde kaldım, dağ sularından içtim
Damarlarımda keskin kılıçların pası
Rüzgara senin için bir el verdim
Bir yanım gitmek istemiyor buralardan
Diğer yanımda bir ağır ceza duruşması
Zehirli hançer olup beklediğin odalarda
Issız bir lamba gibi yanan bendim
10. ESREF OZAN BAYGIN 1993 AS TUR Istanbul
ZADNjA FAZA KLIJANjA SJEMENA
za: Seda Suna
"Mislim, dakle postojim."
Mislim, dakle nema me
pismo
teče
kao
rijeka
listovi loze
plešu
držeći se
za krivine tvoje kose
zvijezde u svojoj noći …
čekajući na stanici začaranog kruga
more
grana pada uz zvučno pucanje
kako pčele mogu napustiti gnijezda
kako riječi mogu izblijedjeti
THE LAST PHASE OF SPROUTİNG SEED
for Seda Suna
"I think therefore I am."
I think therefore I am gone
How can bess leave their nests
The
letter
is flowing
like
a river
ivies
are dancing
clinging to
your hair's curves
stars in its night…
waiting on the station of vicious cycle
The sea
the branch is falling in a deep crackling.
how can bees leave their rests
how the words are pale beside…
Poet: Eşref Ozan BAYGIN
Translator: Seda Suna UÇAKAN
FİLİZLENEN TOHUMUN SON EVRESİ
Seda Suna'ya…
"düşünüyorum öyleyse varım"
düşünüyorum öyleyse yokum
Arılar nasıl olur da yuvalarını bırakır
bir
nehir
gibi
akıyor
harf
raks
ediyor
sarmaşıklar
saçlarının
kıvrımlarından
tutunarak
gecesinde yıldızlar,
kısır döngü durağında bekliyor deniz
ince bir çıtırtıyla düşüyor dal.
arılar nasıl olur da yuvalarını bırakır
kelimeler nasıl olur da sönük kalır…
EUROPE
1. JANA ORLOVÁ 1986 EU CZE Prague
*
Poslije zime je još uvijek imala
ukrućeno meso
kad su je kalemili u drvo
ručno
Nema rana
vrijednih pomena
i šapuće dlan
kroz pukotinu
Prabaka stoji na prozoru
i čeka ljubavnika
Prabaka čeka ljubavnika
i nosi vodu za vatru
Prabaka čeka ljubavnika
a njen muž spava
Na farmi je sve u redu
*
After winter she still had
stiffened meat
when they grafted her into wood
by hand
No wounds
that would be worth speaking about
and whispering by palm
through a crack
Great-grandmother stands at the window
and awaits a lover
Great-grandmother awaits a lover
and carries water for the fire
Great-grandmother awaits a lover
and her husband is sleeping
Everything is in order on the farm
*
Po zimě ještě měla
ztuhlé maso
když ji roubovali do dřeva
ručně
Žádné zranění
které by stálo za řeč
a šeptání dlaní
puklinou
Prababička stojí u okna
a čeká milence
Prababička čeká milence
a nosí vodu na oheň
Prababička čeká milence
a její manžel spí
Na statku je všechno v pořádku
2. ANDREJS SOLOVJOVS 1982 EU LAT Riga
**********
U noćnoj tišini čuo sam plač djeteta.
Osmatrajući, ugledah ga:
"Daj mi, ujače", moliše gladne oči.
I glas mi zadrhta
i snažna ruka zadrhta.
Odakle dolaze, otkud gladno dijete na ulici?
Nije da se ne mogu naći njega i topli kutak.
Ili se to zbiva jer nemamo kralja?
**********
In the stillness of the night I heard a child crying
Looking around, the child saw a small age.
"Give it to me, uncle," the hungry eyes begged.
And my voice trembled
And the strong hand trembled.
Where do they come from, a hungry child on the street?
It's not like you can't find care and a warm corner.
Or is it just that we don't have a king?
3. ELIZA SEGIET 1960 EU POL Tomaszów Maz
TAMA
Tamo,
gdje se djeca
kriju od napada mržnje
umesto da se igraju žmurke
gubi se ukus
živopisnog djetinjstva.
Pozivi za pomoć,
razumijevanje i normalnost
su nepoznati.
Nijema krv
ne podstiče na milost,
mada pozadina ruševina,
u prepoznatljivoj boji,
treba da viče:
svi imaju samo jedan,
jednosmjerni put u tamu.
DARKNESS
There,
where children
are hiding from the attacks of hatred
instead of playing hide and seal
taste is being lost
from colorful childhood.
Callings for help,
understanding and normalcy
is unheard of.
Silent blood
does not incite mercy,
albeit backdrop of ruins
its distinctive color
should holler:
everyone has just one,
one way journey into the darkness.
Translated on English by Ula de B
—-
CIEMONOŚĆ
Tam,
gdzie dzieci
ukrywają się przed atakami nienawiści
zamiast bawić się w chowanego,
zatraca się smak
barwnego dzieciństwa.
Nawoływanie o pomoc,
zrozumienie i normalność
jest niesłyszalne.
Milcząca krew
nie wzbudza litości,
choć na tle ruin
jej wyrazisty kolor
powinien krzyczeć:
każdy ma tylko jedną,
bezpowrotną wędrówkę w ciemność.
4. ALEXANDRA MANTSEVODA 1989 EU RUS Sent Peterburg
SPAJANJE SVIH VREMENA U JEDNOJ TAČKI ČULNOG PROSTORA
Iskusno, naglo ulazeći u horizont događaja,
donijela sam odluku i povećala brzinu…
Ali, vizije bijelih rupa bile su očaravajuće,
natjeraše me da stanem kad vidjeh crvotočinu!
Strast će mi umrijeti pred Univerzumom, kako i valja,
kraj ludog broda je takođe tamo.
Sudbina će se raspršiti u čestice, i to brzo,
a energije će ići kroz sebe, nepostojano.
Snažne struje tkale su mrežu, nezgodne;
razilazeći se, poigravajući se zakrivljenošću prostora, u luku;
palile su i ubrzavale, u jednom trenutku izabravši me.
Takav misteriozni tempo bio je nezamisliv za trku!
Sunce se ugasilo, igralo do smrti i smrzavalo se,
blistave zvijezde lopov je progutao
i- potpuno oprljeni, živjeti u sumornoj mudrosti
mogli su samo bastioni crnih rupa, kao opsjenar koji je opstao.
Dakle, nauči, srce moje, o provaliji koja izaziva
usamljenu dušu, gdje su Ajnštajnovi zakoni u oluji!
Najdublja strast i moje misli su se zabavljale.
Poput nježnog poljupca, to me je odvelo evoluciji.
Znaš li neposrednost sastanka dvije sile?
Spajanje kovitlaca slično je ljubavnom transu …
Čini mi se da je galaksija neko ko se približava,
razvitak današnje privlačnosti u lakom plesu…
MERGING ALL TIMES IN THE ONE POINT OF SENSORY SPACE
Experienced entering abruptly an event horizon,
I took decision and increased my speed…
But white hole visions were so mesmerizing,
Those made me stop in front of the wormhole indeed!
My passion'll die against the Universe, which fits me,
The end of the crazy ship is there as well.
The fate will splatter into particles and swiftly
The energies will go through themselves.
The power currents weaved a net, being tricky,
Dispersing, playing with the curvature of space,
Igniting and accelerating in one moment picked me.
Such a mysterious pace was inconceivable for race!
The suns extinguished, dancing till the death and freezing,
The glittering of stars was swallowed by the funnel-thief,
And scorched completely, to remain in gloomy wisdom
Could only bastions of black holes, like the chiefs of disbelief…
So, learn, my heart, about the abyss, that's generating
In lonely soul, where the storm of Einstein laws is!
The deepest passion and my thoughts were dating,
That gave me evolution, like a tender kiss.
You know the imminence of meeting of two forces?
The merging of the whirls is akin to love trance…
It seems to me as a galaxy is someone getting closer,
Enhancing our days' attraction like a dance.
СОВМЕЩЕНИЕ ВСЕХ ВРЕМЁН В ОДНОЙ ТОЧКЕ ЧУВСТВЕННОГО ПРОСТРАНСТВА
Пережила вхожденье в горизонт событий
И скорость увеличила свою…
Чрез белую дыру увидев ряд наитий,
Теперь пред червоточиной стою.
Где страсть моя замрёт пред новою Вселенной –
Конец пути шального корабля.
Частицами расплещется судьба мгновенно,
Энергии идут через себя.
Потоки сил душе моей сплетали сети,
Играя искривлением пространств,
Сжигая, разгоняя вмиг при ярком свете
На скорости непостижимой в час.
Погаснут солнца, что замрут в предсмертном танце,
Блистанье звёзд сглотнёт воронка-вор,
И выгорит, чтоб хмурой вечностью остаться
Могли лишь бастионы чёрных нор.
Узнай же о рожденьи ока новой бездны
В душе, где шторм эйнштейновских высот!
Закручивая страсть и мысли в узел тесный,
Мне эволюцию она несёт.
Так неизбежность встреч двух сил водоворотов
Слиянью сил любви земных сродни,
Что кажется галактикой мне близкий кто-то,
И в танце притяжений наши дни.
31 октября, 2011
5. INNA NAČAROVA 1966 EU RUS Ufa
PJEVAČICA
Na sceni sam pjevala
i haljina je gorjela
u plamenu raznobojnog štrasa.
U ruci mikrofon.
A duša je drhtala
zvonkim glasom slavuja.
Lavina ovacija
raznolikih sudbina
i vječna tuđina.
Ukosnice i stas,
bacakao se glas,
kavez on ne voli.
Grli svijet- moj glas,
opet sam na sceni.
Idol je moj glas!
Kao buketi nota,
mikrofon u ruci,
dok smiju se fagoti
i plaču basovi.
ПЕВАЧИЦА
На сцени сам певала
и хаљина је горела
разнобојног штраса пламеном.
У руци микрофон.
А душа је дрхтала
звонким гласом славуја.
Овација лавина
разнослојних судбина
и вечно туђина.
Укоснице и стас,
а бацакао се глас,
кавез он не воли.
Грли свет мој глас,
опет сам на сцени
Идол је мој глас!
Као ноте букети,
микрофон у руци,
смеју се фаготи
плачу басови.
6. TOMÁŠ WAGINGER 1984 EU SVK Kosice
RAJ
Vidjeh raj, bio sam u raju.
Ali ovaj raj nije bio na nebu, već na zemlji.
Na zemlji: među dobrim ljudima, na prelijepim putevima,
u dolinama i planinama: gustim, sniježnim, mirisnim.
Vidjeh raj, bio sam u raju.
Tamo u prelijepoj daljini,
samo budi sposobna da percipiraš, dišeš i budeš uz moju ljubav.
Vidjeh raj, bio sam u raju.
Mogao sam da razgovaram,
Mogao da gledam,
Mogao sam da slušam,
mogao da opazim,
mogao da šetam i da se smiješim,
mogao sam da živim i da doživim.
Vidjeh raj, bio sam u raju.
Upoznao sam se sa duhovnošću, duhovnim svijetom
i duhovnim osjećanjima.
Mogao sam okusiti nepregledan duhovni izvor koji se uzdiže iz svakog od nas, gdje nadahnuće, sloboda, nedostatak više nisu problem.
Vidjeh raj, bio sam u raju.
Ljubav, radost, zdravlje.
Traženje i pronalaženje.
Pronalazim ono što sam ranije nazvao snom.
U odsustvu mržnje kojom surfam na visokim talasima ljubavi,
u sjaju sunčevih zraka koji padaju na lice,
osjećam svaku kap, svaki kamen, svaku bubamaru,
i list na drvetu. Sve mogu da osjetim.
Vidjeh raj, bio sam u raju.
RAJ
Videl som raj, bol som v raji.
Tento raj však nebol v nebi, ale tu na zemi.
Na zemi medzi ľuďmi dobrými, na cestách krásnych, v údoliach a horách hustých zasnežených, voňavých.
Videl som raj, bol som v raji.
Tam v diaľavách krásnych,
len tak môcť vnímať, dýchať a byť s mojou láskou.
Videl som raj, bol som v raji.
Keď som mohol hovoriť,
keď som sa mohol pozerať,
keď som mohol počúvať,
keď som mohol vnímať,
keď som mohol chodiť a usmievať sa,
keď som mohol žiť a zažívať.
Videl som raj, bol som v raji.
Keď som spoznal duchovno, duchovný svet a duchovné pocity.
Keď som mohol ochutnať z nekonečného duchovného prameňa vyvierajúceho z každého z nás, kde inšpirácia, sloboda, nedostatok už viac problémom nie je.
Videl som raj, bol som v raji.
Láska, radosť, zdravie. Hľadám a nachádzam.
Nachádzam to, čo som predtým len snom nazýval.
V neprítomnosti, nenávisti surfujem, na vysokých vlnách lásky,
v lesku slnečných lúčov dopadajúcich na moju tvár.
Cítim každú kvapku, každý kameň, každú lienku, či lístok na strome. Cítim všetko.
Videl som raj, bol som v raji.
PARADISE
I saw paradise, I was in paradise.
But this paradise was not in heaven, but here on earth.
On earth among good people, on beautiful roads, in valleys and mountains dense snowy, fragrant.
I saw paradise, I was in paradise.
There in beautiful distances,
just be able to perceive, breathe and be with my love.
I saw paradise, I was in paradise.
When I could talk,
when I could watch,
when I could listen,
when I could perceive,
when I could walk and smile,
when I could live and experience.
I saw paradise, I was in paradise.
When I became acquainted with spirituality, the spirit world
and spiritual feelings.
When I could taste from an endless spiritual spring rising from each of us, where inspiration, freedom, lack is no longer a problem.
I saw paradise, I was in paradise.
Love, joy, health.
Seeking and finding.
I find what I just called a dream before.
In the absence of the hate I surf, on high waves of love,
in the glitter of sunbeams falling on my face.
I can feel every drop, every stone, every ladybug,
or a leaf on a tree. I can feel everything.
I saw paradise, I was in paradise.
7. YURIJ LISHCHUK 1999 EU UKR Ternopil
UDALJENOST
Potajno dodirujem tvoje elegantne ruke
izvan dimenzija uobičajenih misli
kroz tamu osjećam svaki element;
ipak ne mogu završiti brojanje,
gubim se na noktu kažiprsta
lijeve ruke
reci mi da li ovaj gusti svijet,
koji se lako može zgužvati,
i dalje stoji na stubovima koje si ti naslikala
danas sam smislio riječ za tebe
ali ne mogu je prenijeti dalje
DISTANCE
I secretly touch your elegant hands
beyond a dimension of common thoughts
through the darkness, I'm feeling every element,
yet I can't finish the count,
getting lost on a forefinger's nail
on a left hand
tell me if this thick world
that can be crumpled easily
still stands on columns painted by you
today I crafted a word for you
but I can't pass it on
8. IVANNA SAMCHUK 1988 EU UKR Ostrog City
GRLEĆI DRVEĆE
grli drveće
jer su misli između golih grana
traži istinu ili slobodu
jer izgleda da korijenje nije trulo
ali ulice su blijede
jer mu je lice sivo
i traži hljeb suvoj zvijezdi
dok neko ima previše
a neko se moli i drži mu ruku
jer sve bijelo pokriva zemlju
bijeli bol i krv Božija
jer je korijenje drveća već smrznuto
da procvjeta kroz put do raja
ОБІЙМАЮ ДЕРЕВА
обіймаю дерева
бо думки між гіллям голим
просять істини чи то волі
бо коріння наче не всохли
але вулиці блідокволі
бо обличчя змученосірі
просять хліба насушного зорі
і хтось має геть надто
а хтось молить і руку тримає
бо за все білим встелює землю
болем білим і кров'ю бога
бо в дерев вже замерзло коріння
до весни як до раю дорога
HUGGING TREES
hugging trees
for thoughts are between bare branches
asking for truth or freedom
for the roots do not seem to have withered
but the streets are pale
for his face is gray
asking for bread of the dry star
and someone has too much
and someone is praying and holding his hand
for above all white covers the earth
white pain and the blood of God
for the roots of the trees are already frozen
to spring as a road to paradise
1. EMI ENDQKOVA 1984 EU ENG London
VJERUJEM TI
Vjerujem ti. Okean si.
U tvojoj vodi se ne bih utopila.
Naučio bi me da plivam
ili bar da tečem,
mirno.
Vjerujem ti. Pouzdan si.
Mirna stabljika koja drži mene- zrnastu.
Ne bojim se tvoje snage.
Osjećam ti podršku.
Čekamo zajedno, strpljivo,
moju neizbježnu zrelost.
Znaš sve neizgovoreno.
I slušam, ne utapajući misli,
jer me dopunjuješ i nastavljaš dalje.
Bez uskraćivanja.
Vjerujem ti.
Zatvaram oči i puštam da me vodiš.
Ne bojim se pada.
Tvoje ruke su moja krila.
Vjerujem u sve što ide nam u susret.
Donosiš priliku za bolji svijet.
Ne plašim se neuspjeha.
Znam da je to samo odskočna daska
za naredni skok.
I, uvijek preskočiš i još uvijek možeš.
Vjerujem ti kad ni sebi ne vjerujem.
Shvatim da smo jedno drugom ogledalo,
i moja vjera se udvostručuje.
Kada si gladan hrabrosti,
nahrani se voćem moje zrelosti:
voćem koje puca od ukusa
od kad si me rascvjetao.
Okrijepi se sokovima kad ti fali opuštanja,
kad iz tišine polaziš u nove daljine.
I BELIEVE YOU
I belive you.
An ocean I wouldn't drown in
You'd teach me how to swim. Or flow at least.
Peacefully.
I believe you.
Dependable,
Resilent stalk holding little grain me.
Im not scared of your strength.
I feel your support.
We wait together, patiently,
My inevitable ripeness
You sense the unspoken
without denying my worth
Complement and enhance me
I speak to you without silencing my word
I believe you.
With eyes wide shut I'm letting you guide me.
Not afraid of getting stuck.
Your hands shall my wings be
We fly away to meet our luck
I believe it.
Everything that comes from you.
You smell of ​​a better world.
Should you fail, I'll be the trampoline to aid your next jump.
Overjump!
And reach higher than yourself
I believe you, even when I don't believe myself
then i remember we are each other's mirror
I expand. And soon my faith doubles.
Your reflection makes all clear.
And if you hunger for courage to be
Feed off the fruits of my fertility,
Bursting with flavours since you bloomed me.
Rejoice in the juices in days you need fulfillment.
Or crave silence before a new achievement.
Аз ти вярвам. Ти си океан.
Не се давя във водите ти.
Ти ме учиш да плувам.
Аз ти вярвам. Устойчив си.
Като стрък, опнат под узряло зърно.
Не ме плаши силата ти.
Чакам с теб, търпелива, плодовете.
Вярвам ти.
Ти знаеш всичко, което не се казва.
А аз слушам без да заглушавам мислите си.
Защото ме допълваш и продължаваш.
Без да ме отричаш.
Вярвам ти.
Затварям очи и оствям да ме водиш.
Не ме е страх от падане.
Ръцете ти са моите крила.
Вярвам на всичко, което иде пред теб.
Ти носиш възможност за по добър свят.
Не ме е страх от неуспеха ти.
Знам, че е трамплин за следващ скок.
А ти все се надскачаш и още можеш.
Вярвам ти, когато не вярвам даже в себе си.
Но спомням си, че си ми огледало.
И вярата ми удвоява се.
Ако не ти достигне смелост, колкото зърно, почерпи се от семената, които пазя в шепата си след плодовете ти.
За дни, в които имаш нужда от отпускане.
От тишина пред ново тръгване.
2. JULJANA MEHMETI 1973 EU ITA Ancona
PRETICANjE
Trenutak … i boje su izbrisane.
Vazduh ostaje da visi sa kapaka,
ledenice prodiru u cijelo tijelo.
Tama, polako, širi svoja krila
do tanke magle
gdje je sve rastvoreno
do vječnosti bića.
Oblici u oblacima
naglo se rastvaraju,
deformišu se tokom putovanja…
Pojave se i nestaju.
Slatki nestanak
u prazne prostore nesvijesti, bijede;
i do neispričanog,
do krajnje granice
gdje uzbudljivo pištanje
obavija lutajući duh;
izmenjena slika,
blijeda vizija svjetlosti koja umire…
Udaljeni glasovi,
zaboravljena vika.
U ogledalu svemira duh je dizajniran:
prelomljen u nevidljive krugove,
odražavajući zvijezde.
Pojavljuju se u kontinuiranim sekvencama:
preporođene ljubavi
i grešne želje
… u preticanju sebe
kroz noć
sa jedinim sjećanjem.
Lutamo,
između ničega i vječnosti,
jezikom prošlih tragova,
čestice u vječnosti…
… uvijek dalje,
da shvatimo granice …
OVERTAKING…
An instant … and colors are wiped out
the air remains hanging on the eyelids
Cold ices penetrate to the whole body.
the darkness spreads slowly its wings
to a thin haze …,
where everything is dissolved ..
… to the eternity of the being.
Shapes in the cloud
are dissolved abruptly…
deformed during the journey…
they reaper and disappear…
a sweet vanishing..
to the empty spaces of the unconsciousness …,of misery
and to the untold
to the far end boundary,
where the thrilling wheeze
wraps the wandering spirit…
the altered image,
the pale vision of the dying light
distant voices,
forgotten yell.
In the mirror of the universe the spirit is designed
refracted to the invisible circles
reflecting stars.
Appearing in continuous sequences…
reborn loves
and sinful desires
… in overtaking of oneself
through the night
with the only memory.
We wander,
between the nothing and eternity
language of the bygone footprints
particles in eternity
… always further
to understand the boundaries …
TEJKALIM…
Një çast… dhe ngjyrat fiken
Ajri mbetet varur ndër kapakë sysh
Akujt ftohtësi depërtojnë kurmit.
Errësira shtrin krahët ngadalë
në një tis të hollë …,
ku gjithçka tretet ..
…në pafundësinë e qenies.
Format në mjegull
Shkrihen papritur…
Deformohen rrugëtimit..
rishfaqen e zhduken…
Përhumbje e ëmbël..
në hapësira boshe të pavetëdijes …,
misterit
dhe të pathënës
kufirit të fundit,
ku dihatja drithëruar
shpirtin shtegëtar mbështjell…
Imazhi tjetërsuar,
vegim i zbehtë drite në shuarje
zëra të largët,
pasthirrmë e harruar.
Në pasqyrë universi projektohet shpirti
përthyer rrathëve të padukshëm
yjesh reflektim.
Përshfaqur në sekuenca vazhdimësie…
Dashurive rilindur
dhe dëshirash mëkatim
… në tejkalim të vetvetes
nëpër natë
me të vetmin kujtim.
Endemi,
mes asgjësë dhe pafundësisë
gjuhë gjurmësh të shkuara
grimca në përjetësi
… gjithmonë e më larg
për të kuptuar kufijtë…
3. MICHELA ZANARELLA 1980 EU ITA Rome
SVEMIR U SVITANjU
Nalazim se u srećnoj rijeci ljubavi
što ljulja tople uzdahe tišine.
Talože se u venama,
prolazne noći i svodovi blagosti.
Daj mi svjetlost i živi polen
u obliku drhtavice,
ti koji si čovjek i prozirni arhipelag
na mojoj dojci.
U zakrivljenosti glatkih leđa i parfema,
sudbina već kiši
sjećanja na zrelo plavo.
I naša lica,
svemir u svitanju.
A SPACE IN THE DAWN
I find myself in happy rivers of love
rocking warm breaths of silence.
They settle in the vein,
fleeting nights and arches of gentleness.
Give me light and living pollen
in the form of shivering,
you that are man and a transparent archipelago
on my breast.
In the curving of smooth backs and perfume,
destiny is already raining
the memory of ripe blue.
And our face,
a space in the dawn.
4. GLORIA SOFIA 1985 EU NHL Rotterdam
JG
Miriše crveno
Miriše crveno i ne plamti
Miriše na crvenu i ne toliko tužnu krv
Miriše crveno i možda malo
Malo na uplašeni pepeo
I slomljeni bluz,
Ali ipak
Miriše crveno.
Miriše crveno
Miriše na zoru
Dirljiva anksioznost
Noć ima
Bezbojan miris
Ali pre toga
Stiže do kraja
Ima okrutni miris nade
Miriše crveno
Ruže još nisu umrle
Mirisi još nisu umrli
Miriše crveno i osjeća strah
Crni strah da te ne izgubi
Gubljenje ljubavi prema njemu
Miriše na hljeb, djeluje haotično
Mirise crveno i ne peče
Miriše na sumrak, a ne na pjesme
Miriše tako crveno
Miris mi oduzima san
Zora miriše snove
Snovi ustaju
Kao ruža kad se probudiš
Miriše na zoru
Aurora sa crvenim ukusom
Svježih ruža
Miriše nada
Mirišu poljupci
Miriše dječji osmijeh
Miriše na ljubav i
Miriše na crveno i
Smijeh iz snova
Osmijeh sa neba
Mirišeš na ljubav
konačno miriše žuto
JG
It smells red
It smells red and doesn't flame
It smells red and not sad blood
It smells red and maybe a little
A little scared ashes
And the broken blues,
But still
It smells red.
It smells red
Smells of dawn
Touching anxiety
The night has
A colorless smell
But before that
Reach the end
It has a cruel smell of hope
It smells red
The roses haven't died yet
And the smells haven't died yet
It smells red and smells fear
Black fear of losing you
Losing love for him
It smells like bread, it looks chaotic
It smells red and doesn't burn
It smells like dusk and not the songs
It smells so red
The smell robs me of sleep
Dawn smells dreams
Dreams raised
Like the rose when you wake up
Smells like dawn
Aurora with red flavor
Of fresh roses
It smells hope
Smells kisses
Smells the children's smile
It smells of love and
It smells red and
The dream laugh
Smile from the sky
Smells you love
finally smells yellow
5. LUCILLA TRAPAZZO 1964 EU SWI Zurich
MOJA MAJKA
Moja majka sjedi pored mene kod ljekara.
Moja majka je ovdje i zapravo nije.
Nedostaju joj neki komadi.
Jednog dana je izgubila zube, a zatim i sluh.
Izgubila je dojku, pluća, kosu.
Moja majka je izgubila vozove, dugmad, majku
i djetinjstvo.
Jednog dana, moja majka je izgubila sina
(ostale je je pustila da idu).
Moja majka drži svoje ime u džepu,
nekada vrijedno potpisa.
Ima zemlju, moja majka, i kuću
preplavljenu leptirima.
Moja majka ima tri ptice; drži ih vezane za bok,
uzicama raznih boja.
Kad se vjetar digne, udaraju je u bok
pokušavajući letjeti.
Moja majka ima šnale sa cirkonima i dimne talase
u azbestnoj kosi.
Moja majka ima nabor na licu i katanac.
Moja majka ima bol i brojanicu.
U vratu joj je zasađena grančica, i prazan grob
između oca i majke.
Moja majka ima tri kćerke
i bolje stihove od mojih.
Moja majka je u ogledalu i gleda me u oči.
MIA MADRE/MY MOTHER
Mia madre è seduta accanto a me dal dottore
Mia madre c'è e non c'è per davvero.
Le mancano pezzi.
Un giorno ha perso i denti, poi l'udito.
Ha perso un seno, un polmone, i capelli.
Mia madre ha perso i treni i bottoni e sua madre
e l'infanzia.
Un giorno mia madre ha perso un figlio
(altri li ha lasciati andare).
Mia madre ha in tasca il suo nome
che un tempo contava vessilli.
ha un paese mia madre e una casa
che trabocca farfalle.
Mia madre ha tre uccelli che tiene legati alla vita
con cordoni di vario colore.
Se il vento si alza le sbattono addosso
in azzardo di volo.
Mia madre ha barrette di strass e volute di fumo
tra i capelli d'amianto. Mia madre ha una piega sul viso
e un lucchetto. Mia madre ha un dolore e un rosario.
Un ramo piantato sul collo e un loculo vuoto
tra suo padre e sua madre.
Mia madre ha tre figlie
e versi più belli dei miei.
Mia madre è allo specchio e mi guarda negli occhi.
My mother
My mother is sitting next to me at the doctor's
My mother is here and she's not really here.
She's missing some pieces.
One day she lost her teeth, then her hearing.
She lost a breast, a lung, her hair.
My mother lost the trains the buttons and her mother
and the childhood.
One day my mother lost a son
(other she let them go).
My mother holds her name in her pocket
it once was worth insignia.
A country has my mother and a house
overflowing with butterflies.
My mother has three birds; she keeps them tied to her side
with cords of various colors.
When the wind rises, they hit her flank
in attempt of a flight.
My mom has rhinestone bars and smoke volutes
among her asbestos hair. My mom has a crease on her face
and a padlock. My mother has a pain and a rosary.
A branch planted on her neck and an empty grave
between her father and her mother.
My mother has three daughters
and better verses than mine.
My mother is in the mirror, and she looks me in the eyes.
NORTH AMERICA AND SOUTH AMERICA
1. ANNE THROPE 1964 N.A USA Nelson
ČVRSTO KAO KAMEN
Život nije linearan. Talasast je.
Čak i kada se prava linija
ucrtava između tačaka
A: gdje se nalaziš
B: gdje bi da stigneš,
postoje podzapleti i preokreti.
Ponekad se spotaknemo, padnemo.
Nekad smo gurnuti dolje,
bačeni na tvrdu zemlju.
Ili zaronimo u jarugu,
duboku pukotinu, loše pripremljeni.
Ljubavi moja, pao si.
Dezorijentisano, nulta vidljivost.
Tako si se adaptirao
na mrak, zatvorenih očiju.
Kad se usudiš otvoriti ih,
vidjećeš mlaz svjetlosti.
Jačina zračenja sam ja.
I lagano povlačenje koje osjećaš:
oko struka ti je stegnuta žila kucavica,
čvrsto sam te osigurala prije pada.
Umjesto da te izlažem pritisku,
kad god si spreman za penjanje
iz tame- nazad u život,
izgovori riječ, pošto ja sam ti sidro:
čvrsto i sigurno si zakačen.
"ROCK SOLID"
Life is not linear. It's wavy.
Even when a straight line
is plotted between points
A: where you find yourself,
B: where you'd like to end,
there are subplots & twists.
Sometimes we stumble, fall.
Others, we're shoved down,
beaten into the hard ground.
Or, we plunge into a ravine,
a deep crevasse, ill-prepared.
My love, you took a tumble.
Disoriented, lacking visibility.
You've grown so accustomed
to darkness, your eyes closed.
When you dare to open them,
you will see a stream of light.
The radiating brightness is me.
And the slight tugging you feel
at your waist is the taut lifeline
I tightly secured before you fell.
Rather than rappel down to you,
whenever you are ready to climb
out of the darkness, back into life,
say the word, as I am your anchor,
you are firmly and safely belayed.
2. MARCUS DAVIS – KISS 1984 N.A USA New York (Mount Vernon)
NOVA CRNČUGA
Imao sam oko 8 godina
kad je sudbina
naslikala za mene
širu sliku
Prelijepog toplog
i sunčanog dana
Shvatio sam
da sam ja
bio crnčuga
I ne, ne crnja,
kako bi rekli moji prijatelji,
nego sa -čuga
Veoma blizu ljuljaške
osjećaj kao ništa prije
napao me je punom, zlobnom snagom
Dozvoli da objasnim …
Odrastao sam u getu
gdje se ćudi sukobe
kao teški metali,
gdje su nasilje i smrt
uobičajeni
i koliko god bilo svađa
riješene su
Gdje većina ubica
poznaje svoje žrtve
ili je novac
razlog kosača,
tamo gdje siromaštvo proizvodi tenzije
i ljetnje doba
je sezona ubijanja
Kad Crn i siromašan
postaju sinonimi
posljedice
mogu izgledati zloslutno,
ali bio sam blagosloven
kratkim bjekstvom
iz mog pištoljima naseljenog
područja
Vidiš,
moj otac je živio
u predgrađu
i posjećivao sam ga
svakog drugog vikenda
tamo gdje su trava i drveće
uobičajeni,
i mi smo vjerovali
ispravno govoreći
Gdje svjež vazduh
bješe moj dah,
i mahali smo "Zdravo"
komšijama
Tamo gdje su tenzije
rješavane razgovorom
i ljudi su zahvaljivali
za vaše usluge
ali iza ovoga je
fiktivni veo
površnih prijatnosti
Tu žive vjekovi
prave mržnje
koja širi trulež
kao neka bolest
Bio je prelijep
proljećni dan
i bio sam u kući,
izležavajući se
Moja tetka je rekla,
"Uzmi svoje stvari
Idemo
u parkić"
Uzbuđenje- to je potcjenjivanje
Vidiš,
moja tetka Pat
bila mi je najdraža
Nestrpljivo sam gledao
kako je vozila
ubrzavši niz pločnik
Iako nismo bili
daleko
jedva je imala vremena
da se parkira
prije nego što sam istrčao
napolje iz automobila
Bilo je tobogana,
i ljuljaški, i druge djece
Trčao sam okolo i igrao se
Potrčao sam iza jednog,
djelovalo je zabavno,
ali nisam mogao čuti
šta govori
Naša visina i starost
bili su slični
Dakle, znao sam da jesmo
isti
A on je znao da ne možemo
biti prijatelji
i da je moj pigment za kriviti
Vikao je,
"Požurite,
Bježite od CRNOG dječaka! "
Kakva gorka igra
Njegova fraza
odjeknula mi je mozgom
U tom trenutku
Natjerali su me odustati
Nismo se ni igrali,
ali sam se osjećao
kao "to"
Zaustavio sam se
Dok je bježao
uz osmijeh
Riječi su mu se zarile poput strijele
Pomislio sam
Šta sam mu učinio?
Njegovo neznanje me je preuredilo
Još uvek osjećam
moj položaj
kao kad me je malo, bijelo dijete
upoznalo
sa mojim melaninskim grijehom
Plakao sam,
Plakao sam kao da je nešto,
da je umrlo duboko u meni
Plakao sam dok nisam oslijepio,
a onda sam plakao
i ponovo zaplakao
Nisam mogao vidjeti svrhu
da me boli zbog kože
Nisam mogao vidjeti tetku kako prilazi
Bila je zabrinuta za svoj rod
Rekao sam joj šta se dogodilo
i ona je krenula tamo
Proklinjala je roditelje
Ali još uvek nisam mogao osjetiti radost
Trebala joj je sva snaga
koju je imala
da ne pretuče tog dječaka
Tog dana smo napustili taj park
zarekavši se da se nikada nećemo vratiti
Molio sam se da
svo drveće umre
i tlo
da zauvijek pukne
Vidiš,
taj tobogan
vječno će me podsjećati
da postoji nešto
pogrešno sa CRNIM
Pa sad kad ona
čvrsto steže torbicu,
ili prelazi
ulicu noću,
čak i onu nevinu preplašenost
ja osjećam
Kad policajac
hoda u taktu,
ili kad mi je kvart
zanemaren od strane
blijede političke figure
sjetim se tog dječaka
i onog dana kad sam shvatio
da sam ja
crnčuga.
A NEW NIGGER
I was around age 8
When fate
Painted for me
The bigger picture
On a beautifully warm
And sunny day
I came to realize
That I,
Was a niggER
And no, not with an "A"
As my friends would say
But with an "ER"
Just near a see-saw
A feeling like nothing before
Came upon me with vicious vigor
Allow me to explain…
I grew up in the ghetto
Where temper's clash
Like heavy metal
Where violence and death
Are common
And how many an argument
Are settled
Where most killers
Know their victims
Or money is
The reaper's reason
Where poverty produces tensions
And summertime
Is a killing season
When Black and poor
Are synonymous
The repercussions
May seem ominous,
But I was blessed
With brief escapes
From my pistol wielding
Populous
You see,
My father lived
In the suburbs
And I would visit
Every other weekend
Where grass and trees
Are common,
And we believed
In proper speaking
Where fresh air
Was my breath,
And we waved "Hi"
To our neighbors
Where tensions were
Eased through speech
And people thanked you
For your favors
But behind this
Fictitious veil
Of superficial pleasantries
There lives centuries
Of real hatred
Festering like
Some ill disease
It was a gorgeous
Day in spring,
And I was at the house
Just laying around
My aunt said,
"Grab your things
We're going to
The playground"
Excitement was an understatement
You see,
My Aunt Pat,
She was my favorite
I looked on anxiously
As she went
Speeding down the pavement
Although we weren't
Very far
She barely had time to
Park at the park
Before I sprinted,
Running from the car
There were slides,
And swings, and other kids
Running around and playing
I ran behind one
It seemed like some fun,
But I couldn't hear
What he was saying
Our height and age
Were similar
So, I knew we were
The same
But he knew we couldn't
Be friends
And my pigment was to blame
He yelled out,
"Hurry up,
Run from the BLACK boy!"
What an indignant game
His phrase
Echoed through my brain
At that moment
I was made to quit
We weren't even playing tag,
But I still felt
Like an "IT"
I came to a standstill
As he ran off
With a grin
His words pierced like a dart
I thought,
What did I do to him?
His ignorance rearranged me
I can still feel
My positionin'
As that little white kid
Introduced me
To my sin of melanin
I cried,
I cried as if something
Had died deep within
I cried until I was blind,
And then I cried
And cried again
I couldn't see the purpose
Of me hurting for my skin
I couldn't see my aunt walk over
She was concerned about her kin
I told her what had happened
And she started to go in
She cursed the parents out
But I still could find no joy
It took all the strength
She had
To not beat that little boy
We left that park that day
Vowing never to come back
I pray that all
The trees had died
And the ground
Forever cracked
You see,
That slide will
Forever remind me
That there is something
Wrong with BLACK
So now when she
Clutches her purse tight,
Or crosses
The nighttime street,
Or that innocent fright
I feel
When a policeman
Walks his beat,
Or when my neighborhood
Is ignored
By some pale political figure
I'm reminded of that little boy
And the day I realized
That I,
Was a
NIGGER.
3. THIAGO REZENDE SOARES 1983 S.A BRA Minas Gerais (Vicosa)
VOLJETI JE
Znajući kako se nositi sa razlikama,
poštuj druge,
brini o sebi i drugima,
budi smiren u svojoj duši, umu i srcu.
Shvati kroz šta prolazi drugi,
dopri do onih kojima si potreban,
zahvali za sve što imaš
i što si živ.
Kaži "da" mogućnostima,
imaj strpljenja sa ljudima i vremenom,
ispeci pa reci
i uvijek govori iz srca.
Živi ovdje i sad,
kreni srećnim i sigurnim putem,
budi slobodan za veće letove
a prije svega veruj i uzdaj se u sebe.
AMAR É
Saber lidar com as diferenças,
respeitar o próximo,
cuidar de si e dos outros,
ter calma na alma, mente e coração.
Entender o que o outro está passando,
estender a mão para quem precisa,
agradecer a tudo que tem,
e por estar vivo.
Dizer "sim" para as oportunidades,
ter paciência com as pessoas e com o tempo,
pensar antes de falar
e falar sempre com o coração.
Viver o aqui e o agora,
trilhar um caminho feliz e seguro,
ser livre para ter voos maiores
e acima de tudo, confiar e acreditar em si mesmo.
LOVE IS
Knowing how to deal with differences,
respect others,
take care of yourself and others,
be calm in your soul, mind and heart.
Understand what the other is going through,
reach out to those in need,
thank everything you have,
and for being alive.
Saying "yes" to opportunities,
have patience with people and time,
think before you speak
and always speak from the heart.
Live here and now,
take a happy and safe path,
be free to have bigger flights
and above all, trust and believe in yourself.
See more about the organization of the Third Round here:
---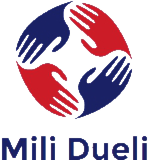 MILI DUELI 
Made in Bosnia and Herzegovina
by Nermin Delić
Europe / Balkan Peninsula
Bosnia and Herzegovina
Federation of Bosnia and Herzegovina
Central Bosnia Canton
Jajce Town 70202
Sva prava zadržana. // All rights reserved.
---